How I Got the Name "The Chocoholic Dietitian"
By Andrea Holwegner, Nutrition Expert & Professional Speaker
Welcome to the April edition of my new e-newsletter "Bite Me," which you can think of like an A-bomb that will… astonish, agitate, activate & advance you!
Each month I will send you a short reflection to shift your thinking and spark your motivation for wellness change. My message is not only about food, but about LIFE and achieving better balance, energy and health. Enjoy!
How I Got the Name "The Chocoholic Dietitian"
Occasionally I meet people that wonder if my title "the chocoholic dietitian" has something to do with endorsing the health benefits of dark chocolate touted in the media. While there is some truth to dark chocolate having some healthy antioxidants, the reason I have the name "the chocoholic dietitian" has nothing to do with preaching about these benefits. Here is the real scoop about how I got the name "the chocoholic dietitian."
Eight years ago when I graduated from university and started my nutrition consulting practice I believed that I needed to model perfect eating habits for my clients. In fact I remember trying so hard to be this beacon of perfection I started to get down on myself that I couldn't kick my enjoyment for chocolate and other decadent foods my university courses had lectured me to eat less of. Thank goodness I have come to my senses! I realized that I was happier and healthier and that my clients were inspired to succeed by striving for an imperfect diet.
I knew my new message that "imperfect is perfect" was working when I received my first chocolate treat from a client named Al that I had been working with for months for weight loss and diabetes. From my street front office window I could see Al pull up and park his Harley Davidson motorcycle. Al was a 6 foot 6 large tough looking man who dressed in black and sported long dark hair and arms riddled in tattoos. In celebration of the 30 pounds he had lost since we first met, he proudly pulled out his favorite chocolate bar for me as a gift and said "thanks for being my chocoholic dietitian."
Funny enough I am now an advocate of ensuring all of us eat treats and foods chosen for enjoyment rather than a diet based on simply nutritional value. In fact when I meet clients that have removed all junk food and made it their personal mission to boycott white foods or higher-fat/sugar items the nutritional community tells you to eat less of; I simply ask…why?
Here is the benefit to making sure you include your favorite soulful foods that make your taste buds and soul sing. Firstly, I know you will be more committed to choose nutritious choices most of the time if you knew you didn't have to be perfect. Secondly, I also know you will feel more positive about yourself and your relationship with food if you allow yourself permission to enjoy ALL foods.
Trying to use "will power" to not enjoy the taste of sugar, fat and salt just doesn't work. Humans are born with a compelling attraction to enjoy these tastes. So the next time you try to give up these items think again. You don't need to give up anything to be healthy…but consider what is really worth it. Think about what your favorite soulful foods are rather than those junk foods you may eat because they are eaten by someone else in your household, leftover in the office or because you simply didn't plan ahead and ate impulsively.
What is really worth it to make your taste buds and soul sing? Each day choose something soulful – a food chosen for the purpose of enjoyment rather than health. Still not convinced you can be healthier than ever following this principle? Try it for a few weeks and let me know your thoughts.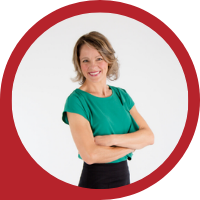 About Andrea Holwegner
CEO, Registered Dietitian, Counseling Practice Director & Professional Speaker
Andrea the «Chocolate Loving Nutritionist» is founder and CEO of Health Stand Nutrition Consulting Inc. since 2000. She is an online nutrition course creator, professional speaker and regular guest in the media. Andrea is the recipient of an award by the Dietitians of Canada: The Speaking of Food & Healthy Living Award for Excellence in Consumer Education....Read more