How Much Should I Weigh?
Listen to my QR77 Radio Program here:
Every Monday at 4:15pm on QR77 Radio join me and Angela Kokott host of Calgary Today with our segment "You are what you eat" to get the goods on healthy eating. If you missed my segments I will be archiving these audio discussions on my blog here.
Episode 28 – How Much Should I Weigh? 
Listen to Episode 28 here: How Much Should I Weigh?
If you have looked up your height and weight on a BMI (body mass index) chart to determine how much your should weigh, you might want to consider a new way of thinking.
I like what the Canadian Obesity Network and leading obesity researcher Dr. Arya Sharma have suggested.   This is your "Best Weight" which is defined as whatever weight you can achieve while still living the healthiest lifestyle possible while still having fun.    If you are overweight, at some point you will not be able to eat less, exercise more AND still have fun.
What determines your weight
Although your weight is a reflection of your nutrition and exercise habits, contrary to many popular diet books and so-called health experts, your weight is not explained by simply "calories in" versus "calories out." Your weight is a reflection of many complex factors above and beyond your food and activity habits such as genetics, family history, age, gender, body composition, sleep habits, hormones and stress levels. Realize that some of these factors we can change — and acknowledge that others are stubborn unchangeable parts we are stuck with. Work at the factors you have control over, like nutrition, exercise, stress and sleep, and remind yourself that you — and everyone else — have a unique weight that your body will steer toward.
Weight wisdom
You know your body best. A true healthy weight is not something that can be found in a chart: it will be a range your body will naturally maintain when you nourish it with healthy food, exercise it regularly, and manage sleep and stress. Don't let the scale rule your happiness, self-worth, and belief in your health status. Decide not to stand on the scale each day to determine whether it is going to be a good day or a bad day filled with feelings of failure and guilt. Resist the magnetic pull of the scale and start to measure your success on your own terms.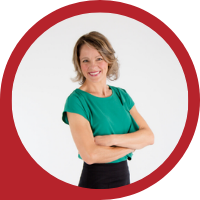 About Andrea Holwegner
CEO, Registered Dietitian, Counseling Practice Director & Professional Speaker
Andrea the «Chocolate Loving Nutritionist» is founder and CEO of Health Stand Nutrition Consulting Inc. since 2000. She is an online nutrition course creator, professional speaker and regular guest in the media. Andrea is the recipient of an award by the Dietitians of Canada: The Speaking of Food & Healthy Living Award for Excellence in Consumer Education....Read more