How often should I eat?
Every monday at 4:15pm on QR77 Radio join me and Angela Kokott host of Calgary Today with our segment "You are what you eat" to get the goods on healthy eating.  If you missed my segments I will be archiving these audio discussions on my blog here.
How often should I eat?  KISS (keep ingesting something silly)
This sounds like a a simple question but it is actually quite complex.  The good news is there are multiple ways to eat and still achieve the health, energy and weight management you need.
Listen to Episode 3, March 26, 2012:
Episode 3: How often should I eat?
In this segment I discuss the two common types of eaters I see in our practice:  GRAZERS and GORGERS
You describe "grazers and gorgers" to classify eaters – what do you mean by this?  
Grazers munch on small amounts constantly throughout the day and gorgers eat big meals, enjoy feeling full and then simply just wait longer periods of time between meals.  Both of these styles of eating have pros and cons and one isn't necessarily better than the other – it is more about personal preference.
What are the challenges for the gorger?
Getting too hungry and ending up in a state of "homicidal hunger" where you overeat and make poor choices.
What are the challenges for the grazer?
Despite being promoted as better you can be overeating by the end of the day since it can be difficult to know when you are hungry and when you are full.
How long should we go between meals?
KISS (keep ingesting something stupid)
Be a "go-getter" (somewhere in between a grazer and gorger) eat every 3-5 hours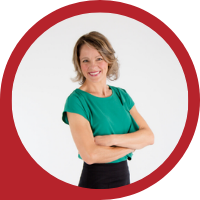 About Andrea Holwegner
CEO, Registered Dietitian, Counseling Practice Director & Professional Speaker
Andrea the «Chocoholic Nutritionist» is founder and CEO of Health Stand Nutrition Consulting Inc. since 2000. She is an online nutrition course creator, professional speaker and regular guest in the media. Andrea is the recipient of an award by the Dietitians of Canada: The Speaking of Food & Healthy Living Award for Excellence in Consumer Education....Read more