Plant-Based Power: 10 Ways to Top a Veggie Burger
Dietitian Calgary vegetarian meal planning that even the toughest plant-based skeptic will love!
This post is sponsored by my client MorningStar Farms.  MorningStar Farms Veggie Burgers (the #1 veggie burger in the USA) are now available in Canada in the freezer aisle of major grocery stores in three delicious flavors: Harvest Veggie, Spicy Black Bean and Mediterranean Chickpea.
Veggie burgers are good choices for vegetarians as well as for those that are looking to add more meatless meals into their family meal planning.  While you might be keen to try more meatless Monday or plant-based meals at home, you may also have family members that are 'meat-atarians' and a plant-based skeptic.  To ease your family in gently, read the tips below to start with a simple veggie burger fully dressed with some of my favorite yummy topping ideas below. 
How do I select a healthy veggie burger?
Look for veggie burgers with simple ingredients (like veggies and legumes) that you can see and recognize.
Make sure your veggie burger actually contains plant-based protein!  Some veggie burgers contain mostly grains or mostly veggies which is a good start but for the best nutritional balance look for a veggie burger that has 9-12 grams of protein per serving coming from plant-based protein sources such as soy protein, black beans, chickpeas or other legumes.
Lastly, since getting family members on board to begin enjoying vegetarian food choices all comes down to taste, choose a veggie burger with the right texture and flavor to satisfy your taste buds.
What are the best ways to serve a veggie burger?
You can serve veggie burgers in a traditional bun with your favorite toppings or instead mix it up and serve in slices in a pita, wrap or in lettuce leaves as a salad roll.
You can also slice veggie burgers and toss on top of your favorite salad, pasta dish or rice bowl for a quick protein addition to your meal.
What are some ideas for topping a veggie burger?
Since veggie burgers like MorningStar Farms cook from frozen in about 8 minutes (on the grill or in a pan on the stove) the good news is you can spend a few minutes while they are cooking to prepare some extra delicious toppings!
Since I love summer for backyard grilling, here are a few of my favorite ideas for healthy toppings to try on top of your veggie burger. I'm using the MorningStar Farms Harvest Veggie Burger as a base but note you can come up with many more combinations with their other veggie burger flavors Spicy Black Bean and Mediterranean Chickpea.
10 Ways to Top a Healthy Veggie Burger!
Green Geek: Guacamole, pea shoots and spinach
California: Sliced avocado, tomato, alfalfa sprouts
Hawaiian: Sliced grilled pineapple, sweet and sour sauce, lettuce, Monterey jack cheese
Grilled Goodness: Sautéed/grilled mushrooms, bell peppers, onions with Swiss cheese
Hot stuff: Red onion, red peppers, goat cheese and hot red pepper jelly
Mediterranean: Hummus, cucumber, tomato and onion
Greek: olive tapenade, feta cheese, tomato, cucumber
Tzatziki: Finely shredded purple cabbage, tzatziki sauce and cucumber
Mexican: salsa with added cooked corn, avocado and lettuce
Brie: brie cheese, sliced apple or pear and fig jam (or cranberry sauce)
Need some personalized help for vegetarian meal planning or how to incorporate more plant-based foods into your diet?   Book a free phone call to discuss your needs and which Calgary Dietitian / Online Dietitian in our practice can help.
As Registered Dietitians that specialize in meal planning, vegetarian health, weight concerns, emotional eating, eating disorders, digestive health, heart health, diabetes, pediatric nutrition and sports nutrition we can see you in our local Dietitian Calgary office or as an Online Dietitian by phone or video conferencing for virtual nutrition counseling. Find out more about our Dietitian Nutrition Counseling Programs here.
As university trained top Registered Dietitians, you can count on us for credible advice and practical meal planning so you don't have to stress about food anymore. You can achieve a healthy and joyous relationship with food and your body. Let's talk about what this can look like for you. CONTACT US.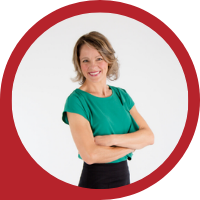 About Andrea Holwegner
CEO, Registered Dietitian, Counseling Practice Director & Professional Speaker
Andrea the «Chocoholic Nutritionist» is founder and CEO of Health Stand Nutrition Consulting Inc. since 2000. She is an online nutrition course creator, professional speaker and regular guest in the media. Andrea is the recipient of an award by the Dietitians of Canada: The Speaking of Food & Healthy Living Award for Excellence in Consumer Education....Read more