Iron Deficiency Anemia
Why do we need iron?
Iron is a mineral that is needed to produce hemoglobin of red blood cells which transports oxygen throughout your body. If you don't eat enough iron containing foods you are at risk for iron deficiency or anemia. Signs of iron deficiency include fatigue, sleeping lots but not feeling rested, shortness of breath, low appetite and paleness.
Watch Calgary Nutritionist Andrea Holwegner speak about Iron Deficiency:
Who is at risk for iron deficiency?
Young growing children that consume a high amount of milk/juice which can limit their ability to get enough solid foods that are high in iron such as meats, legumes and iron fortified cereals are at risk for iron deficiency. Since iron needs are high for teenagers and during pregnancy because of growth and development these are times iron deficiency can develop. Since women lose iron during their menstrual cycles they are also more likely to have iron deficiency than men or post-menopausal women. Vegetarians are also at risk of iron deficiency since overall iron in plant-based foods has lower absorption than in animal based foods. Athletes, especially runners and those that train intensely can also be at risk for iron deficiency.
What are good food sources of iron?
There are two types of iron; heme iron found in animal foods and non-heme iron found in plants. Heme iron is absorbed twice as well by the body and is found in meat, poultry, fish and seafood. Non-heme is found in legumes, nuts, soy foods, iron-fortified breakfast cereals and breads as well as some fruits and vegetables. To increase iron absorption from your foods eat a source of vitamin C such as tomatoes, potatoes, berries, citrus, peppers, broccoli and kiwis.
For more information click here
How much do I need per day?
8 mg/day (men 19 years and older, postmenopausal women)
18 mg/day (women 19-50 years)
27 mg/day (pregnant women 19 years and older)
Should I take an iron supplement?
A multivitamin containing iron is a good idea for all menstruating women. Since iron can be toxic (which is why it is sold behind the pharmacy rather than on the shelf) you should only take an additional iron supplement if your doctor has told you your bloodwork shows that you are low. If you are low in iron the dose needed to be taken in a supplement form is quite high (approximately 60-200 mg per day for adults and 60-100 mg per day for adolescents). To find out what is best for you discuss this with your dietitian or doctor. Typically after 3 months of an iron supplement to treat anemia it is important to get bloodwork done again to reassess your levels.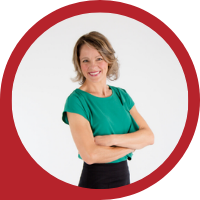 About Andrea Holwegner
CEO, Registered Dietitian, Counseling Practice Director & Professional Speaker
Andrea the «Chocoholic Nutritionist» is founder and CEO of Health Stand Nutrition Consulting Inc. since 2000. She is an online nutrition course creator, professional speaker and regular guest in the media. Andrea is the recipient of an award by the Dietitians of Canada: The Speaking of Food & Healthy Living Award for Excellence in Consumer Education....Read more