Lemonade Watermelon Slushie Recipe
Refreshing simple summer beverage with watermelon
Freezing watermelon is an awesome refreshing addition to your smoothies or making homemade popsicles or this tasty simple watermelon slushie recipe. This recipe works great if you purchase a large watermelon and worry you won't be able to eat it all fresh. (It also works great if you have a not-so-tasty bland watermelon you are not enjoying as we've all had that experience!). Sometimes the best things in life really are simple.
Makes 4 servings
What you need:
6 cups cubed watermelon, frozen
3 cups lemonade (purchased ready-made or prepared from scratch using the method below)
Additional ice if needed
How to make:
If you are making homemade lemonade combine 1 cup granulated sugar with 1 cup water in a saucepan or pot and warm until sugar has dissolved. Remove from heat and chill. Add another 1 cup of water and 3/4 cup fresh squeezed lemon juice (about 3-4 lemons).
Place frozen watermelon and lemonade into the blender (add more ice as needed) and enjoy immediately.
You can also serve this with a splash of white rum or vodka if you looking to make a summer cocktail.
Nutrients per serving using fresh prepared lemonade recipe above:
270 calories
70 g carboydrates
1.6 g protein
0.4 g fat
1.1 g fibre
Looking for more simple meal planning tips and healthy recipes for a healthier lifestyle?
Sign up for our weekly newsletter for a healthy recipe of the week (and nutrition articles and videos with a balanced living philosophy to help encourage healthy habits but still save room for your favorites). Our nutrition newsletter is written by the Online / Calgary Nutritionists on our team who each hold a professional Registered Dietitian license to ensure you are getting credible advice.
Click here to sign-up for our free weekly nutrition newsletter: Nutrition Newsletter by our Calgary Nutritionist / Online Dietitian team.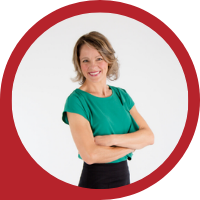 About Andrea Holwegner
CEO, Registered Dietitian, Counseling Practice Director & Professional Speaker
Andrea the «Chocoholic Nutritionist» is founder and CEO of Health Stand Nutrition Consulting Inc. since 2000. She is an online nutrition course creator, professional speaker and regular guest in the media. Andrea is the recipient of an award by the Dietitians of Canada: The Speaking of Food & Healthy Living Award for Excellence in Consumer Education....Read more