Why I had an ugly cry (but now I'm doing a happy dance)
About a month ago I lost it…
It was a full snotty uncontrollable ugly cry.
It was a combination of grinch mom that hadn't had any time to herself meets overwhelmed business owner wearing many hats.
It was Saturday afternoon and I'd spent hours yet again after many early mornings and late evenings on my computer after I'd put my son to bed.  I had mom guilt since I wanted to be spending time with my son but had more to do to wrap up this project.
My hubby Mike will tell you there was irrational rambling, cranky words of frustration and lots and lots of snotty kneenex.  Mike is smart enough to know after being married to me all these years that the best thing to do in these times is to listen to the freak out and NOT offer advice…
Instead offer a hug and some chocolate (well he actually didn't offer me chocolate but I'm thinking it might have helped).
The meltdown was a result of a year of restructuring. I'd managed changes in our team, moving our office location after 16 years  and building out a new strategic plan for growth of our practice.  I'd also managed a busy home life with my boys (keeping up to an active 9 year old son and Mike who also runs a business and was studying for an exam).
What wasn't managed well was my patience for how long it took to rebuild our website. I'd hired an excellent company for web design in January but like so many things in life (including changes with your health habits and New Year's resolutions) the results you are looking for almost always take much longer than you've hoped. I thought we'd be able to wrap this project within a few months.  Instead rebranding and working through a 184 page google document with completely new copy changes, photo selections and notes for design and programming took 10 months.  The last final month of the home stretch testing, tweaking and working out the glitches had taken its toll.
But as with many things in life, hard work and perseverance pays off. I'm proud to finally unveil our new website!
I thought of YOU our customers and subscribers that follow our content.  I'm especially excited for you to check out our new 'Resource Mega Bank' where you can find a nicely organized section of our articles, recipes, meal planner kits and more.
As you head into the New Year and are thinking about making some changes to your health here are some lessons I learned with this project that relate to your health.
Lessons about health change:
1. Give it time.
This one sucks. The results you are looking for will likely take longer than you think. The time is worth it but I'm willing to bet you will need to bank on more time than you think you need.
2. Break it down.
Supersized results require consistent bite-sized changes. Anchor your mind on the next most important thing you need to do to move things forward. If you don't you'll be stuck at stop with the large mountain you need to climb.
3. Make tough choices.
Remember you really can't do it all. To achieve new things requires more time and energy efforts and that means something else in your life will take a slide. My good friend Cathy reminded me that while it feels like you are dropping the ball, instead you need to reframe this as intentionally setting balls down in pursuit of the most important things that drive things forward.
4. Find your tribe.
It's hard to achieve things alone. You'll need some cheerleaders along the way when you are defeated or unmotivated. You'll also need some tough love to kick your butt on achieving deadlines and brainstorming solutions when the challenges come up.
5. Celebrate the win.
When I told my 9 year old that the website finally launched he got out the fancy wine glasses (sparkling water for him and wine for the adults) to make a toast. Often in life we move onto the next thing without celebrating along the way. Take time to savor the wins.
PS I'm looking forward to hearing your thoughts on the new website www.healthstandnutrition.com  *don't forget to clear the cache/browsing history and refresh the page if you've been on our site before.  If you are a grammar snob let me know if you see anything that needs changed.  If you have any feedback for me please leave us a message below in the comments or send us an email here.
Warmly,
Andrea Holwegner
CEO (Chief Energy Officer)
Health Stand Nutrition Consulting Inc.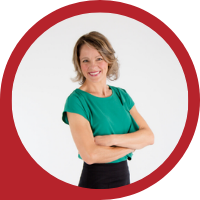 About Andrea Holwegner
CEO, Registered Dietitian, Counseling Practice Director & Professional Speaker
Andrea the «Chocoholic Nutritionist» is founder and CEO of Health Stand Nutrition Consulting Inc. since 2000. She is an online nutrition course creator, professional speaker and regular guest in the media. Andrea is the recipient of an award by the Dietitians of Canada: The Speaking of Food & Healthy Living Award for Excellence in Consumer Education....Read more