Let's get physical
I was recently interviewed by Aaliya Essa for her article Let's get Physical that was published in Condoliving magazine. Check it out….
Home is where your health starts
Ironic as it may seem, life can get in the way of good health. When you're too busy with the day-to-day grind, getting fit tends to take a back seat and all the New Year's resolutions to start living a healthy life become nothing but a distant memory by August.
Time management and rearranging our priorities is important in maintaining a well-balanced life, but mustering the will power to get started is key. Fitness experts say it's easy enough when you get started and you don't even need a gym membership to stay healthy, as exercising at home can be as simple as walking up the stairs a few times. The challenge is getting off the couch and getting started.
"People are busier than they have ever been. When we get stretched the top things we drop from our list of priorities are exercise, eating right, and getting enough sleep," says Michelle Cederberg, author of the self-help book, Energy Now!
Cederberg explains that this behaviour stems from the compulsion to tend first to what we consider to be time-sensitive. We forsake healthy living for getting ahead: working at your desk instead of working out, ordering take-out versus making dinner at home, and staying up late rather than getting an adequate amount of sleep.
The reality is that a well-balanced lifestyle "takes effort," says Cederberg. "We all need to have energy in order to succeed, and that starts at home, with your health plan, with your sleep, with exercise, with down time and all the comforts that you get at home."
Energize yourself
It's a vicious cycle: where do you get the energy to energize? This is what Cederberg discusses in her book, and she says the best way to achieve your healthy lifestyle is to start small.
Starting with simple goals to establish a health-oriented habit is the first step. A well-structured day, that's where the energy comes from, she says, adding that everything you need is within yourself and in your home environment.
"If we can prioritize a healthy home environment — and have enough personal time, then it doesn't seem like such a stretch to take care of ourselves with exercise and all those other things," she says.
Home gym
Exercise is a key component to a balanced lifestyle and the Public Health Agency of Canada recommends a 60-minute daily workout for children and at least 150 minutes a week for adults.
Exercising fuels your body with energy, which will increase your strength and endurance, and will benefit your health immensely. A workout can be broken into two 30-minutes segments, once in the morning and another later in the day.
The best thing is that you don't really need a gym membership to keep an exercise regimen. Even those on a tight budget don't really need to buy extra exercise equipment to achieve their health goals.
Utilizing furniture in the home can assist with many exercises, "chairs, couches, even the bed can be used in a workout," says Kori Leigh Hagel, a nutritionist and personal trainer at Anytime Fitness.
Fitness anywhere
Hagel suggests using sundry, everyday items found in the home including soup cans and milk jugs as weights, and furniture for exercise equipment. "Exercises such as lunges, dips, push-ups, sit-ups, and the plank can be effective for the body, and can easily be done in the home," says Hagel.
Dips, for example, are an easy exercise for the triceps, which can be accomplished by simply pushing against furniture.
First ensure that the couch, bed, or chair is stable and won't move while in use, and then simply hold onto the base of the frame and bring your bottom almost to the ground, and then push back up, inhale as you go down, and exhale as you move back up. Try to keep the shoulders pulled back to avoid applying strain to the neck and arms, for beginners 10 repetitions per day is a good start.
For more information on how to perform these exercises speak to a trainer, as they can assist with the proper movements and positions for the best results. Another great source for information on various exercises is YouTube, where a simple search for "exercise at home" will get you a variety of video clips to choose from.
Eat healthy
The importance of working out is parallel with nutrition, "Don't assume that if you are exercising and/or you are at a healthy weight that you don't have to worry about what you eat," says Andrea Holwegner, President of Health Stand Nutrition Inc.
Holwegner explains, "Your body is like a car, and nutrition is the gas, oil, and other components of your car that make it run properly. Your car will run for a while if you don't fill it with fuel or forget to change the oil, but eventually it will break down." This is the basic understanding of the need for proper nutrition for the body.
Ever heard breakfast is the most important meal of the day, well, it's true. "Breakfast gives your brain the essential energy it needs for a full day ahead, and breakfast eaters tend to struggle with their weight less than breakfast skippers," says Holwegner.
A good breakfast is comprised with these three essentials: grains/starches, fruits/vegetables, and protein. The goal for the day, with every meal, is to incorporate: plenty of green vegetables, an assortment of fruits, carbohydrates such as whole-grain pastas, rice, and tortillas, and protein. For meal suggestions and a variety of recipes, check out https://www.healthstandnutrition.com/blog/
Health begins at home
Statistics Canada posted that one in four Canadians is considered clinically obese; in U.S. the ratio is one in three. The number of health concerns such as Type 2 Diabetes is on the rise among adults and children, directly related to the amount of consumption and the type of food being consumed.
No one wants to be part of that statistic, and Cederberg says you don't have to be by learning the importance of a healthy lifestyle, stress management, and time for leisure, and how to find success in these through small steps.
"Action doesn't need to happen in giant leaps to qualify as success," she says in her book. "You want more energy and you can get that by simply taking small steps every day in one or two key energy-boosting areas in your life."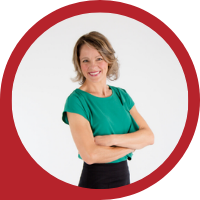 About Andrea Holwegner
CEO, Registered Dietitian, Counseling Practice Director & Professional Speaker
Andrea the «Chocoholic Nutritionist» is founder and CEO of Health Stand Nutrition Consulting Inc. since 2000. She is an online nutrition course creator, professional speaker and regular guest in the media. Andrea is the recipient of an award by the Dietitians of Canada: The Speaking of Food & Healthy Living Award for Excellence in Consumer Education....Read more