Listen to Your Body and Act On Warning Signs
Listen to my QR77 Radio Program here:
Every Monday at 4:15pm on QR77 Radio join me and Angela Kokott host of Calgary Today with our segment "You are what you eat" to get the goods on healthy eating. If you missed my segments I will be archiving these audio discussions on my blog here.
Episode 36 – Listen to your body and act on warning signs
Listen to Episode 36 here: Listen to your body and act on warning signs
Your dad has had some significant health challenges can you tell us about this?
A few years ago I watched the hospital staff wheel my dad through the big grey doors of the cardiovascular unit for open heart surgery. I was unsure if I would see him again to celebrate future birthdays or other milestones – and this feeling was a familiar one for me.
My dad came from a family that started the morning off by floating oatmeal in a puddle of rich cream and mopping up leftover bacon fat with toast. As a little boy in a small town he made daily visits to the local store for a pop and chocolate bar. His lifestyle habits for many years took their toll.
Combine this with a genetic predisposition to heart disease and it was the perfect storm for illness in his 40s.
For the last 15 years my dad has been through several surgeries and lived a life on hold. He has been heavily medicated in a state of health that prevented him from living life to the fullest.
I watched my dad's skin colour move from healthy pink to ashen grey. I worried about his shortness of breath. I became anxious that changing a light bulb or other tasks that required his hands to be above his head caused the sweat to pour off his face. Garage tasks that required strength or lifting became hard.
It was difficult to see my dad's energy slide, coupled with the regular angina or heart pains he was feeling.
The open heart surgery was life changing for my dad, but also for me.
Tell us about that? What do you mean about "life changing"?
I had the opportunity to ski with my dad for the first time in more than 20 years. As I stood at the top of the ski resort I snapped a treasured picture of us. Later, I smiled as my dad spoke about how amazed he was that he made it through the whole day without his legs giving out.
When we returned home to the cabin my parents had finished with their bare hands, and where he was finally able to enjoy through retirement, I felt a sense of pride.
When we asked my dad what he wanted for his birthday he requested hockey sticks. He and a neighbour at the cabin have been shovelling off snow on the local pond for ice skating. Years ago shovelling snow was out of the question, let alone hockey. It seems my dad is now unstoppable.
What lessons can we learn from your dad's story?
Take advantage of second chances
Maybe you can relate to my dad and have been given the gift of a second chance for better health. What are you going to do to keep it that way?
Realize that second chances also come in the form of listening to what your body is really telling you. If you feel like your body doesn't have the energy, vitality or health you know it deserves, don't wait for something drastic to happen to force you to change.
Far too often the first time people decide to make changes to their nutrition and lifestyle is in response to a negative event such as a heart attack. Take this opportunity as the kick in the butt you need to take charge of your health now before it is too late.
There is no time for excuses
The life expectancy at birth according to Statistics Canada (for the period between 2005 and 2007) is 78 for males. (Females have a  life expectancy of 83).
My challenge to you is to take a good hard look at the lifestyle habits you have right now. Envision the life you want and the physical health you need to do it.
Are you making the most of it?  As the old saying goes -if you don't take care of your body, where are you going to live?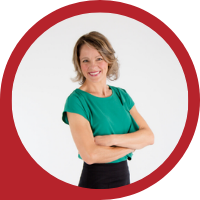 About Andrea Holwegner
CEO, Registered Dietitian, Counseling Practice Director & Professional Speaker
Andrea the «Chocoholic Nutritionist» is founder and CEO of Health Stand Nutrition Consulting Inc. since 2000. She is an online nutrition course creator, professional speaker and regular guest in the media. Andrea is the recipient of an award by the Dietitians of Canada: The Speaking of Food & Healthy Living Award for Excellence in Consumer Education....Read more