Canada's Highest Dessert Consuming Province Has the Lowest Rate of Obesity
As the "chocoholic dietitian" and advocate for enjoying both healthful and soulful foods I was delighted to learn that Quebecers consume 30% more dessert with supper than any province in Canada.  Quebecers also have the lowest proportion of obese adults in the country (22%).
The results were released by the market research company, the NPD Group in the 15th edition of the Eating Patterns in Canada (EPIC) report.  In Quebec dessert was consumed with supper 112 meals annual per capita as opposed to 89 in Atlantic Canada, 57 in Ontario and 55 on the west coast.

Quebecers were also more likely to take great pleasure in eating with 82% saying it is important to enjoy full and regular meals each day versus 60% of western Canadians and 63% of Ontarians.  Quebecers snack less and are less likely to skip meals since they favor satisfying meals.
What can we learn from this study and other eaters that balance health and pleasure? 
Promote permission

There is no need to sacrifice pleasure, taste or restrict any specific food to manage a healthy weight.  You can achieve health without guilt or complexity.
Eating should be an experience. The word "diet" actually means "a way of life" in Latin.

Seek satisfaction

We all have unique intuitive hunger patterns.  There is value in ending a meal satisfied that you truly had enough.  If you leave a meal unsatisfied because you think you "should" stop and to avoid guilt you may find yourself overeating later.  There is a basic philosophy that suggests we all want what we can't have.  Deprivation leads to overconsumption.

Slow down and savor your bites

Give your brain and stomach time to communicate and notice satisfaction.
Economists use a term called the law of diminishing marginal utility. When applied to food, this can be summarized as the first bite of food tasting the best. Bites of food that follow will be progressively lower in enjoyment and taste.

Ditch distraction

What are you doing while you are eating? Just because you could eat your lunch at your desk while you are on the computer doesn't mean you should.  Just because you could eat in front of the TV doesn't mean it's a good idea.
Your brain, eyes and stomach don't have a hope of communicating fullness cues if you are doing other things while eating.

Crave connection

Most people eat better when they eat together. Research shows sitting down for a family meal is not only good for your nutrition but is one way to protect your kids from obesity, eating disorders, drug and alcohol abuse and more. If you live alone and feel like cooking for one is a chore, be sure to co-ordinate some social meals.
Work is another type of family.  Be a leader and encourage people to leave their desks and join you for lunch. Organizations that eat breakfast or lunch together regularly have been shown to improve team cohesion and productivity since they return to work less distracted, having had time to socialize.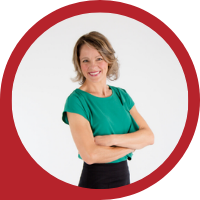 About Andrea Holwegner
CEO, Registered Dietitian, Counseling Practice Director & Professional Speaker
Andrea the «Chocoholic Nutritionist» is founder and CEO of Health Stand Nutrition Consulting Inc. since 2000. She is an online nutrition course creator, professional speaker and regular guest in the media. Andrea is the recipient of an award by the Dietitians of Canada: The Speaking of Food & Healthy Living Award for Excellence in Consumer Education....Read more