Lunch-packin' dilemmas solved
By Andrea Holwegner, For the Calgary Herald October 1, 2011
Eight-year-old Martin was a picky eater, especially when it came to lunch.His lunch often came home uneaten and his parents struggled to figure out what to pack, since peanut butter sandwiches were his favourite, but not permitted at school.
The 2004 Lunchroom Monitor Survey, which polled more than 1,000 moms and 1,000 kids (age eight to 12) revealed kids are trashing (73 per cent) and trading (36 per cent) parts of their school lunch at least once a week.
The survey revealed that taste and fun were the two things kids are looking for when it comes to enjoying lunch.
With that in mind, here are a few solutions for some common lunch dilemmas.
Dilemma: Uneaten lunch returns home.
Find out if your child has sufficient time to eat lunch. Some schools rush kids so much that if your child is a slow eater or easily distracted they may find it hard to complete the task.
Encourage your children to have a bigger morning and afternoon snack if they are having a smaller lunch. You can help them with this by splitting what you pack into three clear sections.
Your children may not be finishing their lunch because they're bored or don't like what they see. The visual appeal is critical for kids, so spend an extra minute to make it look fun.
Putting fruit such as grapes, strawberries and melon on a wooden kebab is more interesting than a plain apple. It can make all the difference if you slice a wrap made with chicken, cream cheese, lettuce and red pepper into small, bite-sized pieces to eat as a finger food or with a toothpick or fork.
Ask your kids which foods some of their friends eat that look good. If this doesn't turn up any healthy ideas provide them with a list of options, but frame the choice. Include the following three components, otherwise important nutrients will be missed (kids often favour starchy foods over vegetables and protein):
– Grains/starches such as bread, pasta, rice, crackers, pitas and wraps.
– Vegetables and/or fruit such as raw veggies, cooked veggies, vegetable soup, fresh fruit, canned fruit, frozen fruit and dried fruit.
– Source of protein such as meat, chicken, cheese, legumes (beans/lentils/chickpeas), eggs, tofu and nuts.
Dilemma: Can't bring good old PB&J sandwiches.
If your kids love peanut butter but can't bring it to school due to allergy restrictions, think about swapping breakfast for lunch.
Offer peanut butter sandwiches for breakfast and offer other favourite breakfast foods such as french toast with jam (eat cold or hot) and fruit for lunch. Try oatmeal in a Thermos served with hard cooked eggs and fruit on the side.
In the peanut butter section of your grocery store, you may have noticed a product called pea butter (made from golden brown peas). The taste is somewhat similar to peanut butter and is peanut- and nut-free. If other nuts are permitted at your kids' school, try healthy almond butter, cashew nut butter or sunflower seed butter.
Dilemma: Tired of sandwiches.
Here are a few popular choices (don't forget to pack a water bottle and use an insulated lunch bag and ice pack):
– Pasta salad with pasta, chopped raw or cooked veggies, cubes of cheese and chicken/ham/chickpeas and your kid's favourite salad dressing. Serve with kiwis cut in half that they can eat with a spoon and chocolate milk or chocolate soy milk.
– Leftover quesadillas (often eaten cold). Make this meal for supper and cook extra for lunch the next day. Make on whole grain wraps with chicken/black beans, cheese, peppers or other veggies and dip in salsa.
– Pizza bagel or pita pizzas served hot or cold. Homemade on whole wheat bagel/pitas with tomato sauce, lean meat, veggies, pineapple and cheese. Also add a container of snap peas and carrot sticks as well as yogurt.
Dilemma: Lunch isn't interesting any more.
Make lunch a series of popular snack foods. Buy a container that has several separate components or fill several containers of foods they enjoy such as:
– Veggies such as cucumbers, carrots, broccoli or cherry tomatoes with veggie dip.
– Fruit such as berries, cantaloupe, orange slices, applesauce, canned fruit, raisins or dried apricots.
– Protein such as cheese cubes/slices, cottage cheese, hard cooked eggs, hummus, ham cubes, deli turkey/chicken/ham rolls or strips, small cans of pre-flavoured tuna or nuts/seeds if permitted.
– Grains/starches such as mini muffins, whole grain crackers, mini whole wheat pitas or mini pancakes with jam.
Andrea Holwegner, the chocoholic dietitian, is the owner of Health Stand Nutrition Consulting Inc. Visit www.healthstandnutrition.com or phone 403-262-3466 to subscribe to her free monthly ezine.
Read more: http://www.calgaryherald.com/health/Lunch+packin+dilemmas+solved/5367378/story.html#ixzz1ZvToL5aE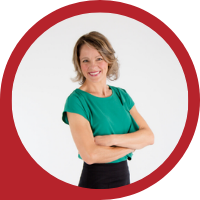 About Andrea Holwegner
CEO, Registered Dietitian, Counseling Practice Director & Professional Speaker
Andrea the «Chocolate Loving Nutritionist» is founder and CEO of Health Stand Nutrition Consulting Inc. since 2000. She is an online nutrition course creator, professional speaker and regular guest in the media. Andrea is the recipient of an award by the Dietitians of Canada: The Speaking of Food & Healthy Living Award for Excellence in Consumer Education....Read more