Making Healthy Choices Fun:
Gamification Comes to Corporate Wellness  
People love playing games – board games, online games, video games. They're engaging, they're fun and they're entertaining. Gamification is the process of taking the elements of games – rules, points, scores, competition, winning – and applying them to non-game online activities to make them fun and entertaining so that people want to visit and use that website. Gamification drives engagement for businesses, education and employees.
Gamification is a growing trend in corporate wellness programs. Gamification makes wellness social:
game-based strategies not only drive engagement in programs, they provide the bridge to the all-important offline healthy behaviors and can reinforce behaviors across programs
Gamification of wellness programs can be effectively used throughout the entire employee lifecycle: from recruitment to on-boarding to employee development to exit reviews. Millennials are driving wellness gamification: a trend that will not be ending any time soon.
Results Don't Lie
The reason gamification is being adopted so swiftly by corporate wellness programs is that they get results. Gamification uses mobile technology to educate, influence and reward employees for getting healthy.
Example 1
In a 4 year study of their wellness gamification program Wellvolution, insurance provider Blue Shield found that:
80% of Blue Shield employees participated in at least one wellness program
prevalence of employee smoking decreased by 50%
prevalence of hypertension (high blood pressure) decreased by 66%
Example 2
TourDeFIT.com's Triple Threat Challenge® health gamification gives employees one healthy habit to adopt each week. Their "global wellness program allows employees and dependents to monitor their progress online, develop teams and rivalries for competition, and earn special wellness related incentives, all while accessing premium wellness content on their computers or mobile devices. This "game-like" structure and atmosphere gives employees a new sense of engagement and personal responsibility over their progress."
Example 3
Kindred Healthcare, a nationwide company with a variety of healthcare centers, wanted to create a wellness program that would meet the needs of its diverse workforce. They chose technology platform Limeade and developed ways for their employees to improve their own health.  
"My favorite challenge is 'Move Across America,'" said Andrea Romisher, the company's VP of benefits, based  in Louisville, Ken. "We formed teams, and our folks posted pictures on Instagram and Facebook, showing how they were taking steps across America. And we have some real heroes out there."
She said more employees are completing well-being assessments, making them better educated about how to take care of their health.  
Wellness Gamification Best Practices
Corporate Wellness Programs that want to add gamification to their wellness activities can use the following guidelines to increase the likelihood of a successful implementation and increase the chances for high levels of employee engagement in their program.  
Link the Game to Your Corporate Wellness Goals
Gamification is proven to increase employee engagement, but make sure the game strategy drives your company's health and wellness goals and isn't just fun and distracting. Know your employee demographics, the health challenges your employees face, and design a system that supports their needs and interests.
Measurable Goals
Clearly identify your wellness goals before starting your wellness gamification initiative. Encourage specific behaviors, identify what defines success and integrate rewards for varying levels of achievement and rewards.
KISS
Keep it simple and smart. If you make your game too complex, a large part of the employee base is likely to be turned-off or lose interest quickly. But that doesn't mean dumb it down: your wellness game can be challenging without being overly complex.
Make it Sustainable 
Design a system that looks at the long-term goals needed to maintain a new behavior. Review and update your wellness gamification program annually to be sure it continues to meet corporate and employee needs and that rewards are relevant and meaningful.
Measure Change
Identify and track the targeted behavior before and after gamifying it to know whether the gamification is working. Many experts emphasize the importance of data tracking in gamification strategies.
Personalize Recognition
Not everyone is motivated and feels recognized in the same ways. Don't build a one-size-fits-all recognition system for all employees. Develop a reward system that equally inspires those employees who are internally motivated as those who are motivated by external recognition, such badges and game rankings.
Reward Big and Small Achievements
Your wellness gamification should measure and reward small accomplishments as well as big accomplishments. By implementing a reward system that has levels of accomplishment, employees are incentivized to achieve the next level. If they have to wait too long for a 1st recognition of their progress, they can lose interest and become discouraged.
Make It Social
Wellness gamification is a tool that can help make a change in health behavior fun and interactive, and employees are motivated and challenged by their peers successes. Build an online community or forum.
Build Buzz
Launch your wellness game with excitement and include participation at all levels: including the CEO. Use employee feedback to keep the buzz going, and make employee rewards and recognition a public part of your wellness program to keep the buzz alive.
Make Participation Mandatory
Games shouldn't be mandatory, but participation in an employee wellness program should be. For a wellness gamification program to stay meaningful and relevant employee participation should be mandatory from top to bottom of the corporate hierarchy. The program should be part of employee on-boarding, and the review process. Program news and updates should be shared through standard internal communication methods such as employee newsletters,
Wellness Gamification Rewards and Incentives  
Incentives and rewards are highly personal: what motivates one employee may be of no interest to another.
In a study of 10,000+ employees by Virgin HealthMiles and WorkForce Magazine, 78% of respondents said incentives are important, and 61% said incentives are a key reason to participate in a program.
Badges
Fun and visible badges and ribbons for achieving levels of wellness success are social recognition of the employees engagement and progress. Badges are a good first step in wellness gamification, but can quickly become ignored if they are not supported with other forms for reward and recognition.
Wearable Tech and Tools
Tools such as FitBit, Apple Watch and pedometers range in price and allow employees to monitor their fitness level and use social to compare their accomplishments against a goal or a team. Depending on your corporate budget, tech tools can be purchased for employees, a portion of their cost subsidized or be incorporated as part of the program rewards system.  
Cash Incentives
Gift cards, free tickets, cash and free memberships to health facilities such as gyms or exercise programs are effective rewards for employee wellness achievements. Some organizations use team cash prizes to level the competition.
PTO
Vacation is essential for employee physical and mental wellness. Healthy employees enjoy more time off to pursue recreation and personal interests. Personal time off as a wellness reward combined with recognition from colleagues is a boost to the employee's morale and an incentive to their peers.
Be Creative
Wellness recognition doesn't have to cost a lot. Creativity and fun are key to gamification and incentives:
Think of mall employees who are rewarded with an up-close parking spot with their name on it. Reward your wellness employees with a parking spot far from the building.
Do you have a set of stairs in the office? Stage healthy snacks and cold bottles of water on stair landings to incentivize employees to take the stairs.
Incentive Magazine stresses building flexibility into your earning incentives to maximize results and get the results your company wants to achieve.
Outsourcing Wellness Gamification
It is not reasonable to assume all companies have the internal resources to easily create and implement a wellness gamification initiative for their employees. Despite having good intentions and fiscal motivations, these programs require specific skills, time and resources to design and manage. There are outside resources that organizations both large and small can use to bring employee wellness gamification into their benefits program.
Online Wellness Platforms
Technology solutions like Virgin Pulse, CoreHealth and Limeade are comprehensive wellness gamification programs that can be customized to meet different employee and business needs and resources.
Wellness Experts
Health and wellness coaches can design a custom wellness gamification program for your employees that meets your needs and your budget. Wellness experts have expertise in designing programs for different types of organizations can be a cost effective solution to get your program up and running on time, and on budget.
Wellness gamification programs can also facilitate one-to-one and group coaching with an onsite or remote wellness expert.
National Wellness Games
Local and national wellness gamification efforts such as 5K and 10K walks and programs such as a virtual Walk Across America using social media are low cost entries into wellness gamification that can help transition your employees into your wellness campaign while you develop your internal program.  
Wellness gamification is a growth industry: the global healthcare and wellness gamification market is predicted to be over $40 billion by 2024, with the corporate wellness segment expected to be a significant factor.
For more great Corporate Wellness content,

sign up for EnerTHRIVE!
,

our quarterly Corporate Wellness Newsletter.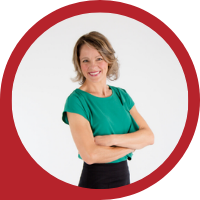 About Andrea Holwegner
CEO, Registered Dietitian, Counseling Practice Director & Professional Speaker
Andrea the «Chocoholic Nutritionist» is founder and CEO of Health Stand Nutrition Consulting Inc. since 2000. She is an online nutrition course creator, professional speaker and regular guest in the media. Andrea is the recipient of an award by the Dietitians of Canada: The Speaking of Food & Healthy Living Award for Excellence in Consumer Education....Read more