Making New Year's Resolutions that Stick!
By Andrea Holwegner, Health Stand Nutrition Consulting Inc.
Ah, the start of a new year – a time to reflect back on last year's events and to look ahead to all the possibilities that this coming year holds.
If you find that resolutions are nothing but a frustrating reminder of your poor will power or inability to change as much or as quickly as you wished, maybe it's time to start thinking about changing your resolutions instead! Here are a few tips to make this year's resolutions a success.
1. Be Specific
We often hear our clients say, "I just need to eat better," but they are unable to commit to any specific goal. Without a particular goal in mind, where do you start? How do know when you've succeeded at something as vague as eating better? Specific goals are easier to attain and lead to a feeling of accomplishment, which motivates you further. Examples are: "I will eat five fruits and vegetables every day," or "I will pack a lunch four days a week," or "I will decrease my wine intake from three glasses to one glass a night." These goals can be easily tracked, letting you see and enjoy your progress over time.
2. Be Vigilant
Tracking keeps us on track! Keep a chart on the fridge or a journal at work and give yourself a star or check mark each day for when you've done something you're striving toward. Maybe you packed a nutritious lunch, ate five or more fruits and vegetables, stuck to a portion size you had committed to…or whatever your specific goal may be. If you can never reach your goal, maybe it wasn't reasonable or maybe there are barriers in the way that need to be addressed first. Either way, tracking helps you to figure this out.
3. Be Reasonable
Quit the all-or-nothing approach…it's not realistic to think that you'll never eat chocolate again if you're a chocoholic or that you'll never drink beer again if "wings n' beer" is a favourite weekly ritual. Be reasonable and set small goals that you KNOW you can reach and maintain for life. As you reach these goals, you'll feel proud and motivated to keep improving in other areas. And remember that nobody is perfect – so don't give up as soon as you have a lapse. Just keep trying. Learning to be flexible is also an important part of healthy eating.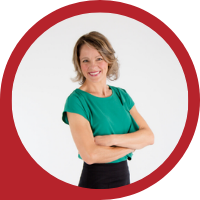 About Andrea Holwegner
CEO, Registered Dietitian, Counseling Practice Director & Professional Speaker
Andrea the «Chocoholic Nutritionist» is founder and CEO of Health Stand Nutrition Consulting Inc. since 2000. She is an online nutrition course creator, professional speaker and regular guest in the media. Andrea is the recipient of an award by the Dietitians of Canada: The Speaking of Food & Healthy Living Award for Excellence in Consumer Education....Read more