My fun experiment with kids, kale smoothies & handmade gnocchi
A few weeks ago I spent the afternoon teaching 25 kids aged 3-5 years old at my sons school.  I loved seeing how kids responded to new foods when you are contagiously optimistic, get them involved and give recipes fun names.  First we talked about why healthy foods are important and glued on pictures of foods to paper plates.  Next we made "

Superhero Smoothies

" with mango, pineapple, unsweetened juice and kale (the special "superpower" ingredient).  When I excitedly pulled out a large bag of kale only a handful of kids knew what it was.  My favourite part was when I gave kids the opportunity to tear the kale into bite-sized pieces, there was lots of buzz and excitement and green teeth from unprompted sampling. The results were 21 out of 25 kids loved the kale smoothie! Our next activity was "Kid Craze Gnocchi." The kids loved rolling the dough into snakes and then cutting and squishing into noodles.
The cooked gnocchi was devoured and each proud little chef took home samples with the recipe to show their parents and caregivers.  A few days later a parent mentioned that her daughter now wants to eat superhero kale. I'm smiling from ear to ear… What can you cook with kids that can encourage them to try new things and learn an essential life skill?  You might have more fun than them…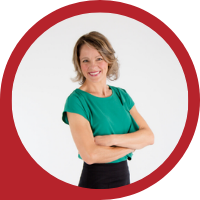 About Andrea Holwegner
CEO, Registered Dietitian, Counseling Practice Director & Professional Speaker
Andrea the «Chocoholic Nutritionist» is founder and CEO of Health Stand Nutrition Consulting Inc. since 2000. She is an online nutrition course creator, professional speaker and regular guest in the media. Andrea is the recipient of an award by the Dietitians of Canada: The Speaking of Food & Healthy Living Award for Excellence in Consumer Education....Read more