Celebrate "nutrition geek" day! (Officially known as National Dietitians Day!)
About National Dietitians Day
As the Chocoholic Dietitian, I will be celebrating with strawberries AND chocolate. I will eat my veggies but also finish the day with a lovely glass of red wine (after all, eating fully is about eating healthfully and soulfully.
Here is a little more about National Dietitians Day…
Once a year, a special day is dedicated to all dietitians across Canada. It celebrates dietitians as health care professionals, committed to using their specialized knowledge and skills in food and nutrition to improve the health of Canadians.
March 19, 2014 marks the fifth anniversary of Dietitians Day. It spotlights the profession and reminds us that dietitians are the smart choice for advice on proper eating, good nutrition and healthy living.
Dietitians Day also raises the profile of dietitians and helps encourage and attract others to this worthy, satisfying and respected profession.
In honour of National Dietitians Day, I'd like to introduce Health Stand Nutrition's registered dietitians:
Andrea Holwegner BSc, RD, President, Counselling Practice Director & Professional Speaker: Nutrition expert Andrea Holwegner is the energetic founder and president of Health Stand Nutrition Consulting Inc., based in Calgary, Alberta, Canada. Since 2000, she has counseled hundreds of individuals, including Olympic athletes, CEOs and families, on the benefits of healthy eating. Andrea spearheads a team of highly trained and experienced dietitians within her practice. She is also known as the chocoholic nutritionist, believing anyone can achieve health without guilt or complexity, and that the secret to success is having fun. Click to read more about Andrea…
Carrie Mullin Innes MSc, RD, IOC Sports Nutrition, Registered Dietitian, Weight Management Expert & Sports Nutritionist: Carrie is a thoughtful, supportive nutrition coach known for her sound nutrition advice and innovative ideas to inspire and motivate you to reach your goals. Carrie's nutrition philosophy focuses on self-empowerment and setting realistic goals for healthy eating that allows room for treats and fun foods (such as her favorites, ice cream and chocolate)! She presents nutrition information in an easy to understand manner and will show you that it is possible to make healthy choices anywhere and anytime without feeling like you are missing out. She will help you realize that healthy eating can be easy, interesting, practical and fun! Click to read more about Carrie…
Deb Lounsbury BSA, RD, CDE, Registered Dietitian, Weight Management Expert & Certified Diabetes Educator: Deb brings over 25-years of experience as a Registered Dietitian. What you will love about Deb the most is her approachability and practical ideas for nutrition and healthy living. She says that the best part of her job is watching people achieve success in a realistic, enjoyable and non-restrictive way. Deb is an advocate for a healthy relationship with food and believes that all foods fit into healthy eating (including chocolate and wine which she ranks as top treats!). Click to read more about Deb…
Richelle Tabelon RD, Registered Dietitian, Weight Management Expert & Chronic Disease Nutritionist: Richelle is contagiously positive, and passionate about nutrition and healthy living! She is known for her comprehensive approach that encompasses physical, mental and spiritual well-being. You can count on her for sound professional expertise and practical ideas to make good nutrition easier. You can also count on her to find a way to balance in your favourite fun foods (hers is traditional Ukrainian foods like perogies). Click to read more about Richelle…
Sherene Sieben BSc, RD, Registered Dietitian, Weight Management Expert & Pediatric Nutrition Specialist: Sherene's warm Maritime charm and energetic disposition, partnered with her extensive nutrition expertise of over 15 years will inspire you and your family toward better health. Feeding a family can be one of the most difficult tasks as a parent, however Sherene can help set realistic goals, make family meals enjoyable and see them end in success. Sherene believes that meals are more than just about eating. Mealtime is about teaching kids about nutrition, family connectedness and socializing, while enjoying everything from vegetables to dessert (yes, there is always room for dessert!). Click to read more about Sherene…
BONUS: Download the Dietitians of Canada's fact sheet and read about how dietitians promote health through food and nutrition, including why you should consult a dietitian, the difference between a dietitian and a nutritionist, tools you can use to make it easier to eat well, and resources for finding a dietitian. Click here for the PDF.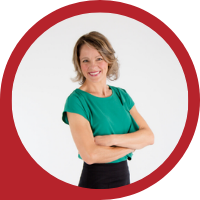 About Andrea Holwegner
CEO, Registered Dietitian, Counseling Practice Director & Professional Speaker
Andrea the «Chocolate Loving Nutritionist» is founder and CEO of Health Stand Nutrition Consulting Inc. since 2000. She is an online nutrition course creator, professional speaker and regular guest in the media. Andrea is the recipient of an award by the Dietitians of Canada: The Speaking of Food & Healthy Living Award for Excellence in Consumer Education....Read more