New Obesity Guidelines Go Beyond Diet and Exercise
A move to focus on health outcomes versus weight loss alone
The Canadian Medical Association Journal recently released new obesity guidelines titled: Obesity in Adults: A Clinical Practice Guideline  which our Dietitian team is very happy to see given our longstanding discussion of "Best Weight" with our clients seeking support for weight loss (more on that below).
The obesity guidelines help pull together the best knowledge we have to date from top experts in obesity research and management. While there is still so much to research and implement in this field, our Dietitian team is hopeful that with a standardized practice guideline more health professionals and the general public will understand the many complex factors that contribute to why we weigh what we weigh.  This is perhaps one of the best first steps to reduce the significant weight bias and stigma our clients face often with respect to their body size.
Below you will find some of the most common myths related to obesity and weight to help you understand the practical aspects of how to interpret the new obesity guidelines:
WATCH the Global TV Interview here about the new obesity guidelines:
Myth 1: If I eat less and exercise I should be able to lose weight.
While your diet and exercise habits are important there are MANY factors that influence weight including sleep, stress, genetics, family history, hormone balance, mental health status, medications, behavioral and environmental factors.  It is important not to oversimplify things to "calories in versus calories out" as the only determinant of why we weight what we weigh.  
One of the big factors we see with our clients struggling to lose weight is a history of dieting and reducing calories but then an inability to sustain this.  Scientists have shown that the control of appetite is complex and that the brain, adipose tissue, pancreas and gut all play a role in triggering food consumption.  When we substantially reduce our food consumption this triggers changes in our appetite and hormones making sustaining a restrictive diet difficult to continue to follow.  
This is why building a personalized eating plan that you can sustain for life is key.  We focus on helping our clients build an eating lifestyle they enjoy AND digging into the harder questions of not just what to eat but how to do it amidst a busy life.  We also support our clients with tools and insight into why they are eating and provide strategies to navigate emotional eating, managing cravings and their environment and social settings.  We collaborate with psychologists more than any other health care professional in our practice given one of the largest barriers in sustaining weight loss can be connected to behavioral change and mental health for our clients.
Myth 2: You can't be healthy if you are obese.
Obesity management should be focused on maximizing physical and mental health and wellness (not specifically weight loss) as that is what matters most.  Outside of nutrition and exercise, the new obesity practice guidelines call on physicians to discuss psychological support, medications and bariatric surgery with their patients after asking for permission to explore options.  You can see the approach in this visual below:
Myth 3: BMI (body mass index) is the best way to tell how much I "should" weigh.
Determining your personal "best weight" is the best way to set individual goals since a so-called "ideal weight" as suggested in a traditional BMI chart – correlating height and weight into a health range – can only give a broad starting place and may not be helpful for you personally. 
A chart cannot determine your health or how much you should weigh. Charts like these oversimplify the range of factors contributing to your weight. They cannot reflect what we have learned about the science of weight management.  More and more health educators and researchers, including the Canadian Obesity Network, are moving towards individualizing target weight goals.
What is meant by your "best weight"?
Our team of Dietitians define your best weight as the weight you can achieve while living fully. Living fully is about living healthfully AND soulfully.
Your best weight is a personal best. It is not based on a graph, chart, app or number provided by a so-called 'expert.' You are your own best expert.
As you look at nutrition, activity level and other lifestyle considerations, keep a few points in mind. You are most likely to be at your best weight when you:
get enough sleep

manage stress and emotions in healthy ways

eat healthfully and mindfully, without striving for perfection

exercise in a non-punishing or extreme way

live soulfully, with enough fun and flexibility to feel that life is social and fulfilling
Where can I find out more information on the new obesity guidelines and sustainable approaches to weight loss using a non-dieting approach?
Work with our Calgary Dietitian / Online Nutritionist team that supports nutrition counseling for obesity management and sustainable practical advice for achievement of your personal best weight. Our best-fit clients are those that are not seeking a strict weight loss coach, but are instead ready to ditch dieting and dive into the bigger reasons they are struggling with weight loss. This often means strategizing better ways to manage emotional eating and learning how to manage cravings with compassion – not willpower. It also means learning how to create systems for success to make eating and preparing the healthy stuff easier, faster, and better.
If you are looking for food freedom, a caring supportive co-pilot, and creating sustainable habits that fit into everyday life, we can help.  Contact Us for support.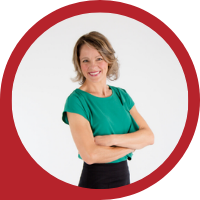 About Andrea Holwegner
CEO, Registered Dietitian, Counseling Practice Director & Professional Speaker
Andrea the «Chocolate Loving Nutritionist» is founder and CEO of Health Stand Nutrition Consulting Inc. since 2000. She is an online nutrition course creator, professional speaker and regular guest in the media. Andrea is the recipient of an award by the Dietitians of Canada: The Speaking of Food & Healthy Living Award for Excellence in Consumer Education....Read more