New Year's resolutions. Pick the right lane and stay the course.
By Andrea Holwegner BSc, RD  "The Chocoholic Dietitian"  www.healthstandnutrition.com 
To get to high school most days, I caught a ride from our suburban neighbour-hood to downtown with my dad. My dad, a laid-back banker, had done the busy rush hour com-mute most of his life and learned to chill out, merge over to the right hand slow lane, and get there when you get there. When I learned to drive, like many teen-agers I vowed to live life in the fast lane (after all, the right lane was "for old folks").
On special days if I got to take the car, the same commute to get to school was full of exciting (although some would say life threatening) driving. I wove in and out of traffic and changed lanes a million times to get there faster. I was proud of myself until I realized I only arrived at most a whopping five minutes earlier than my dad would have.
Worse yet, I got a speeding ticket one morning that put me in my place. My dad didn't say much, but I'm sure what he really wanted to say was "I told you so."
After that, I decided to drive in the right lane "for old folks" regularly. I usually follow one lane and just get there when I get there. When I occasionally digress into the old habit of changing lanes too often, I end up stressed out and realize I am nowhere ahead.
When it comes to wellness and nutrition changes, do you change lanes too often?
Stay consistent with your eating and exercise plan
If you are constantly changing your eating or exercise plan to keep up with the latest fad or be-cause you are impatient and want results faster, you may end up defeated and nowhere ahead. To be most successful at seeing results in your health and weight management, pick a lane, then trust and stay the course long enough to let the results unfold.
It takes more than three months to have the nutrition changes you are making start to show up in your blood cholesterol levels. It may also take you months of exercise to notice real changes in your blood pressure. If you are trying to lose weight, aim for one to two pounds of weight loss per month. Unless you are on a reality TV show and have the whole day to focus on exercise and extreme nutrition changes, faster weight loss isn't likely. Also remember that anyone can lose weight, but can you sustain it?
Which lane should I pick?
You likely already know the basic, often boring things you need to do to improve your health. Eating more veggies, getting off the couch and moving more or simply drinking more water might not sound as sexy as the new diet books that are out just in time for the new year's resolution season, but they work.
Start with evidence-based medicine and associations that track the latest scientific research for the basis of public recommendations. Look to groups such as Health Canada and the Dietitians of Canada to get started. Then stay the course and make 2012 a year of constant progress rather than another year of lane changes.
Top 3 lane changes to make for the New Year
Get started on a new year's resolution by nailing these basic yet critical nutrition changes:
1. Drink more fluids, including water, sparkling water and other low-sugar beverages such as tea to reach about 2 litres per day. Dehydration is common  and may lead to overeating and fatigue.
2. Eat a healthy breakfast every day. This is one of the single most important ways to correct over-eating in the evening and balance out the indulgences from the holidays.
3. Give yourself more than one opportunity each day to eat vegetables. You won't eat enough if you only have them at supper. Add raw veggies and dip, salad or vegetable soup as a daily snack or as part of lunch.
Andrea Holwegner, the Chocoholic Dietitian, is the owner of Health Stand Nutrition Consulting Inc. Visit www.healthstandnutrition.com or phone 403-262-3466 for nutrition counselling, speaking engagements and to subscribe to her free monthly ezine. Twitter: @chocoholicRD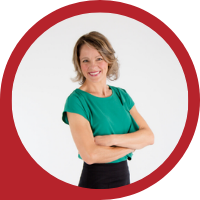 About Andrea Holwegner
CEO, Registered Dietitian, Counseling Practice Director & Professional Speaker
Andrea the «Chocoholic Nutritionist» is founder and CEO of Health Stand Nutrition Consulting Inc. since 2000. She is an online nutrition course creator, professional speaker and regular guest in the media. Andrea is the recipient of an award by the Dietitians of Canada: The Speaking of Food & Healthy Living Award for Excellence in Consumer Education....Read more