Nutrition at the speed of life – how you eat is as important as what you eat
By Andrea Holwegner, For The Calgary Herald  June 2, 2011
Years ago, my friend Dominique was in France when the first Starbucks coffee shop was established. The French were used to small family-run cafes where the purpose of having a coffee was to sit down and enjoy the taste and experience of the brew and the company you were with.
The concept of a stainless steel "to-go" mug or paper cup you left the store with was a foreign concept that took a while to catch on. Coffee wasn't intended to caffeinate a tired body to get through a stressful day, as it has become for many North Americans, but instead was a ritual for savouring something enjoyable, relaxing and reading the newspaper, or socializing with a friend.
Just as the French have traditionally enjoyed espresso sipped slowly in a cafe, in the vast majority of cultures across the planet, eating is a sacred event.
Acquiring, preparing, cooking and savouring food is not a chore for many cultures but a valued part of the day.
How you eat is absolutely as important as what you eat. Here are some tips that will not only improve your health, but also your relationship and satisfaction with food.
Make it a lifestyle change
The word diet in Latin means "a way of life," yet for most North Americans the word has connotations that include deprivation, guilt and hard work. If you are like many North American families, you may work long hours and have a hectic evening schedule of hobbies or sports. With the invention of the microwave, convenience foods and fast food, marketers are working hard to convince you that time to cook is time wasted.
You are kidding yourself if you think that a pre-packaged frozen entree or meal replacement bar has the same level of enjoyment (and nutrition) as a home-cooked meal.
There is a difference in satisfaction with food if you cook it yourself and see it, smell it, feel it and slowly taste it, versus ripping open a package. When you rush through the experience and fail to use all your senses, you are more likely to feel dissatisfied and overeat.
Eat together
In a 2006 Time magazine article, The Magic of the Family Meal, by Nancy Gibbs, I read a quote I will never forget. Anthropologist Robin Fox said, "We have reduced eating to sitting alone and shovelling it in. There is no ceremony in it."
Most people eat better when they eat together. Research shows sitting down for a family meal is not only good for your nutrition but is one way to protect your kids from obesity, eating disorders, drug and alcohol abuse and more. If you live alone and feel like cooking for one is a chore, be sure to co-ordinate some social meals.
At work, be a leader and encourage people to leave their desks and join you for lunch. Organizations that eat breakfast or lunch together regularly have been shown to improve team cohesion and productivity since they return to work less distracted, having had time to socialize.
Fully engage in eating
Just because you could eat your lunch at your desk while you are on the computer doesn't mean you should. If your health and weight are off track, are you multi-tasking something while eating?
Maybe you can relate to my experience of gobbling up a giant bowl of popcorn after a stressful day while watching television, and being surprised to hit the end of the bowl without being able to account for the taste and enjoyment of the snack.
While I find it hard to eat away from all distractions, I challenge you to become more aware.
Pay close attention, especially at times of the day when you find it hard to manage portion control or when you are prone to emotional eating. At these times, make a firm rule that when you are eating, only eat. No reading, television or computer for distraction.
Also be sure to savour the first bite. Economists use a term called the law of diminishing marginal utility. When applied to food, this can be summarized as the first bite of food tasting the best. Bites of food that follow will be progressively lower in enjoyment and taste.
Watch the difference in satisfaction and pleasure when you allow yourself the time and opportunity to fully engage in the art of eating.
Andrea Holwegner, the chocoholic dietitian, owns Health Stand Nutrition Consulting Inc. Visit www.healthstandnutrition.com or phone 403-262-3466  for more information on personalized nutrition counselling, professional speaking and to subscribe to her blog or free monthly ezine.
Read more: http://www.calgaryherald.com/health/Nutrition+speed+life/4878894/story.html#ixzz1OMm1pOKW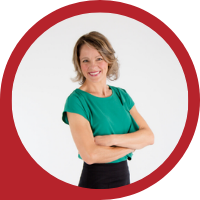 About Andrea Holwegner
CEO, Registered Dietitian, Counseling Practice Director & Professional Speaker
Andrea the «Chocolate Loving Nutritionist» is founder and CEO of Health Stand Nutrition Consulting Inc. since 2000. She is an online nutrition course creator, professional speaker and regular guest in the media. Andrea is the recipient of an award by the Dietitians of Canada: The Speaking of Food & Healthy Living Award for Excellence in Consumer Education....Read more