Nutrition Game Changer: Register for our Online Nutrition Course
Yes you can achieve better health, meal planning success and move to your personal best weight (still eating foods you love)
Join the Pursuit of Healthiness™ Online Nutrition Course and find out how! 
Registration only open for a limited time.  Find out more at https://pursuithealthiness.com/

So, what exactly is The Pursuit Of Healthiness
™?
The Pursuit of Healthiness™ is a self-study training program with support and mentorship designed to help you eat well and still have a life.
The clear step-by-step approach and no-nonsense nutrition solutions are designed to help you achieve your best life faster, easier and guilt-free.
This nutrition course shows you the success path of how to fast-track your way to better health, elevated energy, meal planning success and achievement of your personal best weight.
If you have ever felt stuck, defeated, stressed, too busy or overwhelmed when it comes to the topic of healthy eating, you are not alone. As a Registered Dietitian for close to 20 years, I have worked with thousands of individuals, parents and employees that want to look and feel better each day.
I've been listening to your goals, interests and challenges. I have an idea of where you have been stuck or what caused you to fall off the wagon. I've been studying solutions to help you overcome these roadblocks and move forward with confidence. With this insight, I have created a one-of-a-kind online nutrition course that will serve my mission to help as many people as possible achieve health without guilt or complexity.
"Had I not joined this course I would have struggled with being rudderless with no focus, low energy, and mindless eating. Andrea is an excellent teacher and motivator. This is not just a course, it is a nutrition club with lifetime access to mentorship, support, and connections with other people in similar situations"  Lorri Lawrence

"I really liked the flexible approach to eating healthy, the online support, webinars, the unlimited access to the materials and so much more. I learned not only about the science of a healthy lifestyle but how to go about making those changes." Glen Beaver

"I was blown away by the completeness of the course. It provides incredible richness and the missing keys."  A.R., Ottawa
"I am a busy mom, with kids in high level sports, working full-time downtown, and running our home acreage outside the City.  I now have the knowledge and tools I need to plan for and manage the chaos of meal planning. Using the tools in the course I have been able to adapt them to a system that works for me and my family."  Gillian Gray
Read more reviews from past course participants here :  SUCCESS STORIES
Want to learn more? Visit the course registration page: www.PursuitHealthiness.com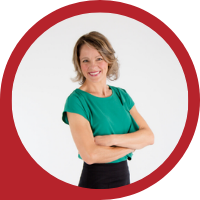 About Andrea Holwegner
CEO, Registered Dietitian, Counseling Practice Director & Professional Speaker
Andrea the «Chocolate Loving Nutritionist» is founder and CEO of Health Stand Nutrition Consulting Inc. since 2000. She is an online nutrition course creator, professional speaker and regular guest in the media. Andrea is the recipient of an award by the Dietitians of Canada: The Speaking of Food & Healthy Living Award for Excellence in Consumer Education....Read more