March is Nutrition Month: Tips and Video Resources
Top Tips for Nutrition Month: Simply Cook and Enjoy!
TIP 1: Simplify weekday cooking. Prepare some ingredients in advance.
No time to cook healthy meals during the week? Having ingredients ready to go makes it a little easier. Try these time-saving ideas:
On the weekend, peel, wash and chop vegetables for the next couple of dinners
Marinate meat and freeze in small portions to defrost quickly
Cook a big pot of whole grain pasta, barley or quinoa so it's ready to reheat when you need it
Grate cheese, gather spices and measure dry ingredients for dinner recipes the night before
TIP 2: Cook once. Eat twice. Make weeknight cooking a breeze with planned extras.
Are you tired of reheating leftovers? Planned extras make an entirely new meal! Just make a little more food than you need for one meal and reinvent it for another. Try these easy options:
Grilling chicken or fish? Grill a couple of extra pieces for sandwiches.
Roasting veggies? Roast extras to toss with pasta or barley or to top a pizza.
Serving chili? Cook a bigger pot and then make enchiladas.
Having salad with supper? Make extra and put it in the fridge, without dressing, for tomorrow's lunch.
TIP 3: Tools of the trade: A few good kitchen tools can make cooking a lot easier!
Cooking tools don't need to be expensive or fancy. Along with quality pots in different sizes, stock your kitchen with these 5 basic tools. They can help you cook like a pro.
Sharp knives – including a paring knife for small slices
Box grater – for grated vegetables, citrus zest and shredded cheese
Immersion (hand-held) blender – perfect for puréeing vegetable soups right in the pot
Steamer basket – makes cooking tender-crisp veggies a snap
Instant-read thermometer – so you know when food is cooked to safe temperatures (no more guessing!)
TIP 4: Make your food dollar go farther. Put more plant-based protein in your pot.
Cooking with protein-rich choices, such as lentils, black beans or chickpeas, is a healthy way to lower the cost per serving of your meals. Extend ground meat or go meatless with these ideas:
Stir up yummy minestrone soup with black beans, chickpeas or lentils – no meat needed!
Make a quick chickpea curry for a totally meatless option
Add a couple of cups of cooked lentils to ground beef for luscious lasagna
Drain and rinse a can of black beans. Add to ground turkey for tasty tacos
TIP 5: Find weekdays too hectic to cook with kids? KISS: Keep it simple, sweetie!
Cooking with kids can take a little more time, but it's worth it! Learning how to cook helps kids develop healthy eating habits, increases self-confidence and teaches life skills. Here are a few tips to keep cooking with kids relaxed.
Give kids easy tasks, such as stirring, when you're in a hurry
Cook on weekends, when you can take more time to teach skills
Choose easy-to-follow recipes with lots of tasks kids can help with
Prepare some ingredients before you start cooking
TIP 6: Cooking for one? Switch it up with stir-fries.
Stir-fries serve up a whole lot of variety in one small meal. Start with vegetables that you can buy loose. That way, you get as little as you need, reducing food waste. Try a sliced carrot with a handful of snow peas, sliced mushrooms and sweet peppers. Sauté your veggies with a little olive oil, fresh garlic and ginger. Add protein, such as chicken, turkey, shrimp, beef, legumes or tofu. Enjoy over brown rice, quinoa, whole grain pasta or barley. Switch up your stir-fries for a new meal every time!
TIP 7: Savour the flavour! Small amounts of nutrient-rich ingredients boost taste.
Nutrient-rich, higher-fat ingredients can be part of healthy cooking. When you use high-quality foods, you only need a little for great flavour. Here are just a few examples:
Cheese – just a sprinkle of strong-tasting cheese such as Parmesan, Asiago or aged cheddar fills your food with flavour
Pesto – it's bursting with basil, so you just need a spoonful to turn plain pasta into a gourmet meal
Nuts – toasting nutrient-rich nuts brings out their rich flavour, so a handful will do
TIP 8: Baking bonanza! Balance your baking with simple swaps.
There are lots of tasty ways to make your baking a little bit healthier. Experiment by using these simple substitutions in your favourite baked goods:
Replace at least half of the enriched white flour with whole grain flour
Replace a quarter of the sugar with skim milk powder
Replace half of the fat in muffins, quick breads and cookies with mashed fruit or vegetables, such as unsweetened applesauce or puréed sweet potato
Use milk instead of water
To watch all of the 2014 Nutrition Month Videos, click here.
Reference: Dietitians of Canada 2014 Nutrition Month Resource Manual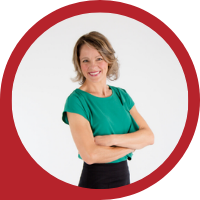 About Andrea Holwegner
CEO, Registered Dietitian, Counseling Practice Director & Professional Speaker
Andrea the «Chocoholic Nutritionist» is founder and CEO of Health Stand Nutrition Consulting Inc. since 2000. She is an online nutrition course creator, professional speaker and regular guest in the media. Andrea is the recipient of an award by the Dietitians of Canada: The Speaking of Food & Healthy Living Award for Excellence in Consumer Education....Read more