Nutrition Month Week 3: Prioritize Portion Size!
When it comes to healthy eating, how much you eat can be just as important as what you eat. Eating portions that are too big can lead to overeating and weight gain. Follow these tips to manage the munchies while enjoying realistic portions.
Dietitian Pro Tips
√  Give yourself a hand! Size up your portions with handy estimates.
Wondering if you're eating too much or too little? Use your hand and try these estimates on for size:
• 1 cup of leafy green veggies or 1 whole piece of fruit = 1 fist
• Fresh, frozen or canned vegetables = 1⁄2 fist
• 1 slice of bread or 1⁄2 bagel = 1 hand
• 1 cup of milk or 3⁄4 cup of yogurt = 1 fist
• 50 grams of cheese = 2 thumbs
• Serving of chicken = palm of hand
• 3⁄4 cup of pulses (e.g. lentils, black beans, chick peas) = 1 fist
√  Size counts! Package, plate and portion sizes can influence how much you eat.
√   Manage munchies! Keep treat-type snack foods out of sight so you'll be less likely to nibble.
√   Fuel up! For long-lasting satisfaction, eat fibre- and protein-rich foods.
March is Nutrition Month: Take a 100 Meal Journey and improve your health one step at a time.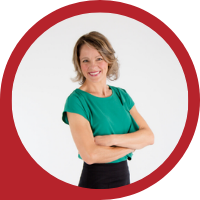 About Andrea Holwegner
CEO, Registered Dietitian, Counseling Practice Director & Professional Speaker
Andrea the «Chocoholic Nutritionist» is founder and CEO of Health Stand Nutrition Consulting Inc. since 2000. She is an online nutrition course creator, professional speaker and regular guest in the media. Andrea is the recipient of an award by the Dietitians of Canada: The Speaking of Food & Healthy Living Award for Excellence in Consumer Education....Read more