Nutrition Strategies for Runners Leading Up to Race Day
Nutrition Strategies for Runners Leading Up to Race Day
By Andrea Holwegner BSc, RD "The Chocoholic Dietitian"
With race day approaching quickly, there are some important nutrition considerations to think about in the weeks and days leading up to the event.
What should I eat before race day?
Your body needs enough rest and a good amount of carbohydrates to top up your muscle glycogen (the storage form of carbohydrate) in the muscle in the days leading up to the event. Carbohydrate is the energy source for your working muscles. Getting adequate protein and a balance of vitamins and minerals will also ensure your muscles are recovering properly. Be sure to have solid recovery meals after your workouts in the weeks leading up to the race. The recovery nutrition meal is the most important meal of the day for a runner. For more information on this read the article "Recovery nutrition after training" in this section of the website.
The night before race day, be sure to have a large meal with plenty of fluids, carbohydrates and a good source of protein. Popular choices are typically pasta with meat sauce and a salad or a stir-fry with rice, veggies and meat/chicken/tofu. An evening snack before bed with additional carbohydrates and some fluid is also a good idea.
What should I eat on race day?
Just like you wouldn't try out a new pair of runners on race day, you shouldn't try out new foods, bars or other sport products. If you don't have at least a couple of meals that you have tested in training before running, now is the time to do it. For ideas read the article "Nutrition before training" in this section of the website.
On race day choose the same foods in the same portion in the same advance amount of time that you know has worked for you in the past. Trying a new bar, sport drink or food on the day that it counts may result in stomach upset and could be detrimental both mentally and physically.
Should I drink coffee on race day?
The simple answer to this question is that you should do the same thing that you normally do. If you normally drink coffee in the morning your body will respond better carrying out your typical morning wake-up java routine. If your body is used to a morning jolt of caffeine which stimulates mental alertness and you don't have it on race day, you will risk feeling tired and sluggish. The other thing to consider is how your body responds to running with coffee consumed beforehand. If you normally don't run in the morning after a cup of coffee I would suggest testing out some of your training runs with coffee in your system and see how you feel. Some people find they experience stomach upset, nausea, vomiting, and increased heart rate or breathing rate. On the other hand research has shown that caffeine seems to increase physical endurance and may increase the time to exhaustion during running. Test it out and see for yourself how you respond.
Andrea Holwegner is president of Health Stand Nutrition Consulting Inc., media expert for theDietitians of Canada, professional speaker and independent consultant to Jugo Juice. To askAndrea your personal nutrition question, visit the "Ask the Dietitian" section of the Jugo Juicewebsite here:www.jugojuice.com.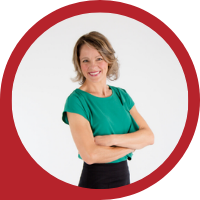 About Andrea Holwegner
CEO, Registered Dietitian, Counseling Practice Director & Professional Speaker
Andrea the «Chocoholic Nutritionist» is founder and CEO of Health Stand Nutrition Consulting Inc. since 2000. She is an online nutrition course creator, professional speaker and regular guest in the media. Andrea is the recipient of an award by the Dietitians of Canada: The Speaking of Food & Healthy Living Award for Excellence in Consumer Education....Read more