Healthy Oatmeal Chocolate Chip Cookies
Delicious peanut butter, oatmeal, chocolate chip cookies
Chewy and packed with fiber, you will love these healthy oatmeal chocolate chip cookies recipe! I like to call these oatmeal chocolate chip cookies "health geek cookies!"  If you are looking for a healthier cookie recipe that is loaded with all sorts of good stuff this is it!  This recipe freezes also freezes well for snacks on the go!
Makes 60 small cookies
What you need:
1/2 cup vegetable oil
1/2 cup natural peanut butter
1/2 cup honey
1 cup brown sugar
2 eggs
1 tsp vanilla
1 cup whole wheat flour
1 tsp salt
1/2 tsp baking soda
3 cups rolled oats
1 cup coconut
1/2 cup bran
1/2 cup wheat germ
1/4 cup hemp hearts
1 cup raisins
1/2 cup almonds
1/2 cup chocolate chips
How to prepare:
In a large mixing bowl, cream together the oil, peanut butter, honey, and sugar. Add eggs and vanilla. Beat well.
Stir in flour, salt, and baking soda. Add remaining ingredients and stir well.
Drop by teaspoons onto a greased cookie sheet. Larger cookies can be made if desired.
Bake at 375F for ~10 minutes until browned on the bottom.
We hope you enjoy these tasty healthy oatmeal chocolate chip cookies recipe!
Per serving:
Calories: 116
Carbohydrates: 15.2g
Protein: 2.7g
Fat: 5.3g
Fibre: 1.4g
Looking for more simple meal planning tips and healthy recipes for a healthier lifestyle?
Sign up for our weekly newsletter for a healthy recipe of the week (and nutrition articles and videos with a balanced living philosophy to help encourage healthy habits but still save room for your favorites). Our nutrition newsletter is written by the Calgary Nutritionists on our team who each hold a professional Registered Dietitian license to ensure you are getting credible advice.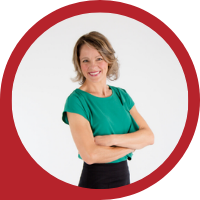 About Andrea Holwegner
CEO, Registered Dietitian, Counseling Practice Director & Professional Speaker
Andrea the «Chocolate Loving Nutritionist» is founder and CEO of Health Stand Nutrition Consulting Inc. since 2000. She is an online nutrition course creator, professional speaker and regular guest in the media. Andrea is the recipient of an award by the Dietitians of Canada: The Speaking of Food & Healthy Living Award for Excellence in Consumer Education....Read more