One Bite to be Polite!
Recently I had the opportunity of teaching my son's preschool class nutrition. In our food group discussion, there was cheering when I flashed pictures of foods they liked, and "eeewwwwww" when they saw pictures of foods they disliked. I was entertained when they told me that peanut butter and strawberry flavored yogurt go into the veggie and fruit group. We glued on pictures of foods from each food group that each person liked to eat, and then the real fun started.
I knew the smoothies we were making would be popular, which they were, but considering we were making homemade hummus that included some big flavors, it could have gone either way. I enjoyed the quarreling over who was going to peel the garlic, dump in the fragrant cumin, squeeze the lemon, drain the chickpeas, and help to chop the green onions (with a real knife). When you give kids tools to use, allow them to explore a new activity and include a bit of healthy peer pressure in a group – good things happen! A few told me they didn't like how it smelled, others said they didn't like onions, and a few even said they didn't like onions. After explaining the rule "one bite to be polite", and some healthy peer pressure, everyone sampled. When their plates were cleaned, and they were asking for more, I asked, "who loves hummus?" All hands quickly shot up.
The teacher told me there was more buzz in the classroom with the smoothie and hummus making than when they made chocolate.The best way to teach kids good nutrition is by cooking with them. If you are a parent or a cool aunt, uncle or family friend, please cook with the kids in your life – you might just have more fun than them and will teach them a valuable lifelong skill.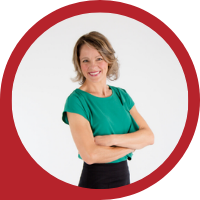 About Andrea Holwegner
CEO, Registered Dietitian, Counseling Practice Director & Professional Speaker
Andrea the «Chocolate Loving Nutritionist» is founder and CEO of Health Stand Nutrition Consulting Inc. since 2000. She is an online nutrition course creator, professional speaker and regular guest in the media. Andrea is the recipient of an award by the Dietitians of Canada: The Speaking of Food & Healthy Living Award for Excellence in Consumer Education....Read more