Online Nutrition Course: Pursuit of Healthiness – limited time sign-up open NOW!
Join our Online Nutrition Course Focused on #Balancednotclean Eating

Ditch dieting, rock meal planning and move to your personal best weight (still eating foods you love)
The Pursuit of Healthiness™ is a comprehensive self-study online nutrition course designed to help you eat well and still have a life.  This is not just a course, it is a nutrition club with lifetime access to mentorship, support, and connections with other people in similar situations. 
My clear step-by-step approach and no-nonsense nutrition solutions are designed to help you achieve your best life faster, easier and guilt-free.
This nutrition program shows you the success path of how to fast-track your way to better health, elevated energy and achievement of your personal best weight.
One size does not fit all. I show you how to build a sustainable plan for YOU (based on current research as well as your health, weight status and food personality).
This is a course for both meat-atarians and vegetarians, for those that enjoy cooking and those that don't. I give you choices, assessments and one-of-a-kind supporting resources.
This online nutrition course is only open until January 30, 2020 and only opens for registration once or twice a year!
Work at your own pace
Access to the Introductory Module is available the moment you complete your registration.
The 5 Modules will be released over approximately 12 weeks from the course start date. Time in-between each module is important so that:
You can stay focused and don't get overwhelmed.

You have time to implement what you learn.

You can connect and grow with a like-minded community at about the same pace.

We can focus our LIVE Q&A session and questions in the member area, so that the vast majority of people understand the context of the questions being asked.
Once all the Modules have been released, you will have lifetime access to the course materials to access whenever you like.
Access support and mentorship along the way
We've got you covered! I have a support team that can help with administrative or tech questions.
When it comes to your nutrition questions, unlike many online courses, you will hear from ME directly to provide support and mentorship through:
Responding to questions and providing encouragement in our private members course area

Addressing questions and supporting our community in our private Facebook Group

Facebook Live Question and Answer sessions for extra bonus support). These videos will also be recorded and archived in the course members area if you don't have a Facebook account)
Many of my students have also appreciated the support they have received from our course group itself.  We have an amazing community of like-minded members that also provide encouragement and suggestions based on what is working for them.
So what would it be worth to you and your family if…
You

didn't have to spend dozens of hours and hundreds of dollars

trying to figure out how to eat well and meal plan with a hectic lifestyle.

You

didn't have to rely on weird eating regimes

, restrictive diets and foods no one in your family likes.

Meal planning wasn't overly complicated

and you could still enjoy your favourite foods at the pub with your buddies or enjoy a dessert with your kids guilt-free.

You were not at war with your body and could

enjoy eating instead of seeing food as the enemy.

You could

stop falling off the wagon

and figure out a clear nutrition success path for better health, energy and achievement of your personal best weight.

You can learn how to set up, execute, and maximize you and your family's nutrition from a single

step-by-step program

. You can access a clear roadmap instead of jumping between multiple overpriced nutrition programs or diets that give you only a single piece of the puzzle and leave you with NO IDEA on how to complete the picture.

You can have a life and

enjoy foods like nachos, dessert or the best of family holiday food

. There is no need to treat these as separate, forbidden foods, but instead FULLY integrate them as non-negotiable fun foods to live your best life.

You could stop "thinking" about healthy eating… stop "talking" about doing meal planning… and definitely stop trying to remember why you were not eating well to begin with. But instead, you can

confidently and consistently execute eating well while still having a life

.
This is the opportunity I'm putting in front of you today!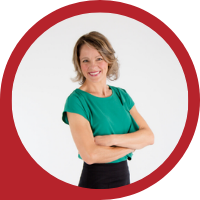 About Andrea Holwegner
CEO, Registered Dietitian, Counseling Practice Director & Professional Speaker
Andrea the «Chocoholic Nutritionist» is founder and CEO of Health Stand Nutrition Consulting Inc. since 2000. She is an online nutrition course creator, professional speaker and regular guest in the media. Andrea is the recipient of an award by the Dietitians of Canada: The Speaking of Food & Healthy Living Award for Excellence in Consumer Education....Read more