Perfection: The Quality That Almost Killed
Guest post by Erica N. (one of the brave clients we saw for eating disorder recovery)
I remember the first time I ever walked into Health Stand, shuffling up the stairs and feeling my chest tighten as I approached the waiting area. My mom sat on one of the hard wooden chairs provided and started flipping through a food magazine, her lips pursed in a thinly pinched line. I stared at the big apple pie on the front cover and I was automatically uncomfortable. Food, it was everywhere, taunting me to give in. There was so much tension between my mom and I, and for a moment I thought maybe she was more nervous than me to walk into Health Stand. Guilt is a funny thing, and I could tell my mom felt so terrible for her involvement in my eating disordered behavior that she chose to hide under her thick armor of bitterness and "tough love" instead. I do not blame her for anything that she did because no one really knows how to act when faced with the realization that you are a part of someone else's addiction. Regardless of whatever feelings we had about my struggle with bulimia, she showed up with me to that meeting and stood strong even if she had no idea what she was doing. One of the reasons I love my mom so much; she has never given up on me.  
At first, Health Stand became my second greatest personal hell next to my own mind. I felt like I was being stripped of all of my habits and coping mechanisms. It was invasive and uncomfortable talking about my eating patterns and having someone call me out on everything that I thought was "healthy" when in fact everything I learned about food was completely wrong. I found myself constantly having to bite my tongue in front of Andrea because there were a million things I wanted to say to her that basically would let her know to F*ck off. I never did say that, but she did teach me to be honest, brave and bold. The previously mousey, softly spoken girl turned into a vibrant, well-spoken lioness that knew her own voice and was not afraid to use it. Believe me, many arguments and head-butting moments ensued in that room at Health Stand, but isn't that the point? I learned to take a stand and fight for my health in a way that I never thought I had the energy to before. My double zero jeans had to be packed up and given up, because I finally decided to fight for my life.
The journey to recovery is long, cold, and can be completely defeating at times. Saving my own life is also one of the most important things I have ever done. Without Health Stand and my amazing group of cheerleaders at Juno House, I probably would not be here today. Suicide was always an option, a very easy way out of my painful struggle with bulimia, but it would have only caused more pain for the one's I love. The point is, seeking the help you know you need is a gift and when you feel ready enough to fight through the tears and the terrible moments of defeat, you become so much stronger. I have a life now that was not possible 3 years ago. I have an amazing family that I never knew for years because of how consumed I was by my obsession with perfecting my own body. Finally, I can value friendships and romantic relationships because I have the head space and the full capacity to give back and love passionately.
For the first time in a long time, I am not afraid of the box of Fruit Loops in my pantry. I work in a bakery with lavish desserts and pastries under my nose every day, and although sometimes I get excruciating cravings to eat everything around me, I am not scared by my feelings. I talk it out with myself and resolve the real issue that lingers beneath the cakes and cookies. I nurture myself rather than ignore what I need and stuff calories down my throat to plug the empty hole, and then puke it up to release the tension. I cannot tell anyone that one day you will be sick and the next you will be free from your addiction. The traveling requires patience and self-love, because although I am stronger today, there are still bad days when I don't remember how to breathe. But the progress that is made comes in waves, and after every huge failure rises and even bigger surge of success. Weeks and even months pass by completely binge and purge free, and that is why every day is worth the fight for me. I think I may be even starting to like my body and hopefully one day I will be able to love it.
I truly hope that whoever reads this can hear how there is hope for you too. Giving up on your dreams of being healthy and feeling beautiful, loved, and accepted is never the answer. Coming from someone who was so sick I could not last a day without purging at least three times, anything is possible if you are willing to do the work. Be patient with yourself and remember to let go. Perfection does not exist and the longer you hold onto trying to control everything in your life, the harder it will be to appreciate the little things because everything will be a failure. Thinness absolutely does not make you happy or whole. It makes you a hollow skeleton; a gender neutral zombie without sexual appeal or feminine strength. What you need to hear is to use your voice, express yourself, and stand up to those who have brought you pain. Be your own hero, because this is the only life you have and it is worth so much more than you think. My heart goes out to everyone out there who is suffering from an eating disorder and I truly hope that you can find the warrior inside of you, the bad-ass chick who eats burgers and takes on the world like you were born to be brave. Be kind to yourself, and find the courage to be uniquely you.
~ Erica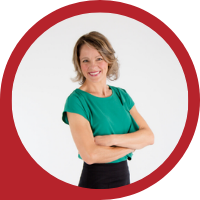 About Andrea Holwegner
CEO, Registered Dietitian, Counseling Practice Director & Professional Speaker
Andrea the «Chocolate Loving Nutritionist» is founder and CEO of Health Stand Nutrition Consulting Inc. since 2000. She is an online nutrition course creator, professional speaker and regular guest in the media. Andrea is the recipient of an award by the Dietitians of Canada: The Speaking of Food & Healthy Living Award for Excellence in Consumer Education....Read more