March is Nutrition Month…Best Food Forward: Plan Shop Cook Enjoy!
March is National Nutrition Month
Every year in March, Canadian dietitians celebrate nutrition month and remind the public about the importance of balanced nutrition.  The slogan for this year's campaign is "Best Food Forward: Plan Shop Cook Enjoy!"
Best Food Forward: Plan Shop Cook Enjoy!
Healthy eating begins at the grocery store. It's where most consumers purchase much of their food. Yet this is also where they are faced with a multitude of choices. This year's Nutrition Month Campaign – Best Food Forward: Plan Shop Cook Enjoy! – is dedicated to serving up practical advice on navigating the grocery store from dietitians, the food and nutrition experts.
How do Canadians Plan, Shop and Cook? 
Dietitians of Canada conducted an Ipsos Reid poll in the Spring, 2012. More than 2000 adults across Canada were surveyed online about their grocery shopping habits and they told us that:
63% of Canadians struggle with making healthier food choices in the grocery storeat least half the time they shop; more than one third struggle at least 75% of the time.
37% plan meals in advance.
67% of Canadians prepare a grocery list before going shopping for food; that is they always or very often write a list.
52% of Canadians always or very often read the nutrition label on a food before purchasing. Only 11% rarely or never read labels.
58% of Canadians report that they always or very often cook a balanced meal for themselves or their family.
Resources
Here are some healthy eating resources to check out and for more information and resources visit the Dietitians of Canada website.
Fact sheet 1 – two tips on grocery shopping suggesting ways to cook and share, and tips on shopping for one or two.
Fact sheet 2 – two more tips on grocery shopping featuring planning, and shopping on a budget.
Fact sheet 3 – two more tips on grocery shopping regarding focusing on fresh food and featuring five fresh foods for your fridge.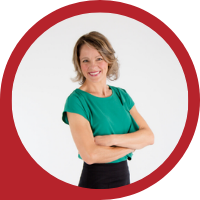 About Andrea Holwegner
CEO, Registered Dietitian, Counseling Practice Director & Professional Speaker
Andrea the «Chocoholic Nutritionist» is founder and CEO of Health Stand Nutrition Consulting Inc. since 2000. She is an online nutrition course creator, professional speaker and regular guest in the media. Andrea is the recipient of an award by the Dietitians of Canada: The Speaking of Food & Healthy Living Award for Excellence in Consumer Education....Read more