Push Forward or Pull Back?
By Andrea Holwegner, Nutrition Expert & Professional Speaker
Welcome to the February edition of my new e-newsletter "Bite Me," which you can think of like an A-bomb that will… astonish, agitate, activate & advance you!
Each month I will send you a short reflection to shift your thinking and spark your motivation for wellness change. My message is not only about food, but about LIFE and achieving better balance, energy and health. Enjoy!
Push Forward or Pull Back?
As a professional speaker I have spent a fair amount of time around motivational speakers that speak about pushing your limits, stepping out of your comfort zone, shooting for gold and achieving excellence.  Everywhere you look our culture encourages and rewards working hard and giving 100% (anything else might be considered slacking off, selling yourself short or not living up to your potential).
Over the last year I ran full speed ahead chasing some significant business and personal goals.  I was pushing forward, striving for "better" and trying to achieve "more."   I put my head down and plowed through many changes, obstacles and opportunities.  Except instead of feeling happier and more fulfilled, I began to feel drained and ungrateful.  Reflecting back, I can now see that I was focusing so hard on achieving "more" and simply surviving challenges that I forgot to celebrate and appreciate the successes along the way.
One of the lessons I have learned this year is that while working hard and having goals are important, it is important to know when to push forward and when to pull back.  There were times this past year when it would have served me better to pull back, take it easy and truly slack off rather than continue to push ahead.
The biggest challenge is to believe pulling back is not a sign of weakness but rather a sign of strength to prevent burnout, exhaustion and overwhelm.  Pulling back allows you to be present in the moment and celebrate your progress so far.  Pulling back also allows an opportunity to show gratitude and renew your energy so that you can continue to achieve whatever goal you are chasing.
If you are fighting something too hard and starting to feel resentful or fatigued, consider if this might be a time to pull back rather than push ahead.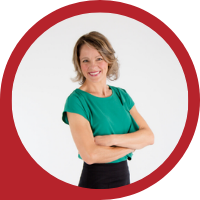 About Andrea Holwegner
CEO, Registered Dietitian, Counseling Practice Director & Professional Speaker
Andrea the «Chocolate Loving Nutritionist» is founder and CEO of Health Stand Nutrition Consulting Inc. since 2000. She is an online nutrition course creator, professional speaker and regular guest in the media. Andrea is the recipient of an award by the Dietitians of Canada: The Speaking of Food & Healthy Living Award for Excellence in Consumer Education....Read more