Put personal health on your to-do list
Making Time for Healthy Eating
By Andrea Holwegner, For The Calgary Herald   November 25, 2010
Brent worked long hours at a high-stress corporation, was a slave to his BlackBerry and often worked late in the evening at home after his kids went to bed.
With a hectic schedule and extensive travel with his work, he often ate out and never managed to use his gym membership.
His doctor diagnosed him with sleep apnea and high cholesterol, and told him to lose 30 pounds because he was at high risk for a heart attack.
When Brent contacted me to set up our first appointment for nutrition counselling, it was difficult to find a time that worked for him because of his chaotic schedule. As I began to work with Brent over the course of several months he cancelled meetings and struggled to follow through on the health and nutrition goals we had set.
I asked Brent what was holding him back. His response didn't surprise me, because I had heard it before.
He said "when things slow down at work, I finish this project and I'm not so busy — then I will have time to do this."
The truth is, life never really slows down long enough to give you time to make all the changes you want to your health. There is no better time than now.
Now, I'm not saying it's easy, but you can do it if you set small, achievable goals and make a healthy lifestyle a priority.
Some of the busiest people I know are also the healthiest. Choosing to be healthy takes time and effort, but the payoffs in energy, productivity and health are worth it.
The key to having the time you need to take care of your personal health starts with examining your everyday schedule. Ever notice the things not on your to-do list or not in your calendar often don't get done for days, months or even years?
When Brent and I first looked at his diary and task listing, he had not specifically allocated any time to use his gym membership, grocery shop or prepare meals, despite wanting to do so.
Until we added appointments into his calendar to do these things — giving them as much importance as a crucial business meeting — he simply didn't make them happen.
The good news is that once Brent got going on these items and got a taste of what it feels like to lose some weight and be healthy, it also became easier to make better choices when eating out and travelling on business.
Brent also started leaving a stash of healthy snacks at work and in his briefcase for travel, since this saved him time on busy days and meant he didn't overeat later.
You might be reading this and thinking to yourself that you couldn't possibly squeeze one more thing into your schedule.
Often you have to let go of something to make space for something new.
New changes you are making — such as taking the time to eat breakfast, pack a healthy lunch or squeeze in a walk — may require you to give up something else, such as watching one hour less TV per night or saying no to extra commitments at work.
There is only so much time each day. You can't do it all (trust me, I have tried: I left myself burned out and feeling like a failure for not being able to be everything to everyone).
What do you need to let go of to give you the time and energy needed to make room for your health?
Whatever health change you are trying to make, if you don't prioritize it as one of the top things to do this week, you likely won't get to it. Decide now that your health has to come first. If you aren't healthy, you won't be there for your family, kids and things that matter to you most.
Start each week by examining where personal health is in your calendar and to-do list and begin by adding a few small, attainable goals.
10 snack attacks for busy people
Yogurt parfait (yogurt, berries and cereal).
Reduced-fat oat bran or bran muffin and cheese.
Dried fruit (such as raisins/craisins/apricots/ dates) and nuts (such as almonds/ peanuts/cashews).
Raw veggies (such as snap/snow peas, carrots and mini tomatoes) and hummus.
Fresh fruit or dried fruit bar and milk or soy milk.
Canned fruit cup or applesauce cup and cottage cheese.
Grapes and cheese cubes.
Whole-grain crackers and mini-can of flavoured tuna/salmon.
Protein bar and unsweetened juice.
Coffee shop latte, steamed milk or chai tea.
Andrea Holwegner is president of Health Stand Nutrition Consulting Inc. Visit www.healthstandnutrition.com andwww.chocoholicdietitian.com or phone 403-262-3466 for more information on personalized nutrition counselling, seminars and to subscribe to a free monthly ezine.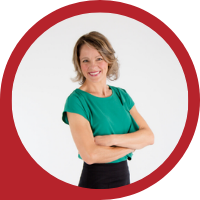 About Andrea Holwegner
CEO, Registered Dietitian, Counseling Practice Director & Professional Speaker
Andrea the «Chocoholic Nutritionist» is founder and CEO of Health Stand Nutrition Consulting Inc. since 2000. She is an online nutrition course creator, professional speaker and regular guest in the media. Andrea is the recipient of an award by the Dietitians of Canada: The Speaking of Food & Healthy Living Award for Excellence in Consumer Education....Read more