Quick BBQ Chicken Pizza
Short on time and need a healthy and scrumptious lunch or dinner?
This recipe is not only delicious but it can be made in under 20 minutes when using a wholewheat wrap or naan bread, if you don't have time to make the dough from scratch.
It is also perfect for leftover school or work lunches!
Makes 1 serving
Ingredients can also be swapped or omitted for those pickier eaters but pizza is a great way to increase our vegetable intake.  
What You Need
Quick BBQ Chicken Pizza Ingredients
1 wholewheat wrap 

 

1 tbsp BBQ sauce 

 

¼ cup diced chicken 

 

2 medium mushroom caps, sliced 

 

1 tbsp red onion, diced 

 

¼ cup spinach, diced 

 

¼ zucchini, diced 

 

¼ bell pepper, diced 

 

½ cup mozzarella cheese, shredded 

 

½ tomato, diced

 

1 green onion, diced 

 
How to make a Quick BBQ Chicken Pizza
Pre-heat the oven to 375 degrees F

 

Prepare all ingredients. Spread BBQ sauce on wrap base and then layer the meat, veggies and cheese. I like to do some cheese on the bottom and some on the top.

 

Bake for 15 minutes or until the cheese is golden brown. Top with green onion and tomato and enjoy!
We hope you enjoy this BBQ Chicken Pizza Recipe! Did you add any other ingredients to your pizza? Share your thoughts and suggestions in the comments!
Nutrients per 1 serving 
267 Calories 
28.5 g Carbohydrate 
35 g Protein 
2 g Fat 
5 g Fiber 
Don't miss a healthy recipe or nutrition article and sign up for our newsletter, today! 
Sound Bites is a weekly nutrition newsletter that goes out to thousands of subscribers. Written by our team of registered dietitians, it includes articles, videos, tips and recipes.
As a special BONUS, we'll email you our popular '51 Healthy Snack Attacks' PDF.
Check out these other great recipes from the Health Stand Nutrition team: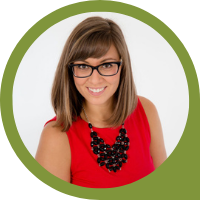 Shauna Kime
Registered Dietitian & Online Nutritionist - Weight Concerns, Women's Health, Diabetes & Meal Planning
The first thing you will notice about Shauna is her contagious optimism, energetic personality and zest. Shauna loves teaching and has a heart full of compassion and empathy for helping clients work through health concerns. Shauna specializes in healthy cooking, diabetes, cardiovascular health, weight concerns and womens health. Read more