Reset Your Clock – and Reset Your Health Goals
Changing Your Clock is a Reminder to Change Your Habits
Today clocks move forward an hour as we Spring Forward into Daylight Savings Time. Sunrise and sunset will be about 1 hour later today than yesterday, and it will be light longer this evening. We lose an hour of our day today, and you may lose some sleep tonight. Read here how sleep affects your weight. As we reset our clocks to reflect the time change, today is a good day to take a look at our health goals and our new year's resolutions to achieve healthier habits. 
Setting Healthy Habits
It's not enough to start a healthy habit, the key is to keep a healthy habit. Follow these tips to set achievable healthy habits.
You are how you eat
Nutrition fundamentally influences stamina, concentration, workday problem solving, creativity as well as the ability to perform jobs safely. Poor nutrition compromises your ability to combat stress as well as maintain a healthy immune system and bounce back from sick days.
More than 60%  of Canadians are overweight or obese and carrying extra pounds is both physically and mentally tiring. Weight struggles can influence overall self-confidence thereby influencing leadership, management, customer service and sales confidence and skill at work.
One in three Canadians has been diagnosed with a chronic disease that is directly related to nutrition and lifestyle. Not only can this directly influence mental stamina and the ability to perform optimally at work but indirectly productivity suffers due to more time off for medical interventions, sick days or time off for disability.
Your eating habits also have a key influence on mood management. Suboptimal nutrition influences depression, anxiety and regulation of anger and emotions. Similar to kids, when nutrition is compromised your ability to play nicely with others (your colleagues and customers) is compromised.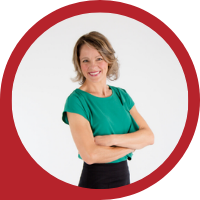 About Andrea Holwegner
CEO, Registered Dietitian, Counseling Practice Director & Professional Speaker
Andrea the «Chocolate Loving Nutritionist» is founder and CEO of Health Stand Nutrition Consulting Inc. since 2000. She is an online nutrition course creator, professional speaker and regular guest in the media. Andrea is the recipient of an award by the Dietitians of Canada: The Speaking of Food & Healthy Living Award for Excellence in Consumer Education....Read more