Oven Roasted Cabbage Recipe
Try this simple, budget friendly recipe for broiled cabbage
This oven roasted cabbage recipe is surprisingly simple. If you haven't roasted cabbage yet I can guarantee you will enjoy the flavour since roasting brings out the natural sweetness of veggies. Serve roasted cabbage with grilled fish, chicken, meat, tofu or legumes and rice, quinoa or potatoes.
Ingredients
Purple or green cabbage
Olive oil
Garlic powder, salt and pepper to taste
How to make
Cut cabbage into slices but keep the core so strands stay attached.
Spread out on a baking sheet in single layers.
Brush with olive oil and sprinkle with garlic powder, salt and pepper to taste.
Cover with tinfoil and bake for 15 minutes in the oven at 450F.
Flip and continue roasting another 15 minutes until browned and charred in some areas.
Nutrients per Serving
Serving = 1 cup (75 gram) serving of cabbage with a teaspoon of olive oil
62 calories
5 g carbohydrates
1 g protein
4.7 g fat
1.5 g fibre
Looking for more simple meal planning tips and healthy recipes for a healthier lifestyle?
Sign up for our weekly newsletter for a healthy recipe of the week (and nutrition articles and videos with a balanced living philosophy to help encourage healthy habits but still save room for your favorites). Our nutrition newsletter is written by the Calgary Nutritionists on our team who each hold a professional Registered Dietitian license to ensure you are getting credible advice.
Click here to sign-up for our free weekly nutrition newsletter: Nutrition Newsletter by our Calgary Nutritionist / Online Dietitian team.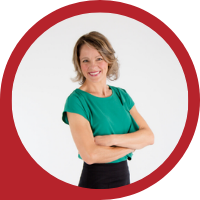 About Andrea Holwegner
CEO, Registered Dietitian, Counseling Practice Director & Professional Speaker
Andrea the «Chocolate Loving Nutritionist» is founder and CEO of Health Stand Nutrition Consulting Inc. since 2000. She is an online nutrition course creator, professional speaker and regular guest in the media. Andrea is the recipient of an award by the Dietitians of Canada: The Speaking of Food & Healthy Living Award for Excellence in Consumer Education....Read more