Sesame Tofu Coins Recipe
Enjoy this unique tofu dish as an appetizer or vegetarian main dish
These delicious sesame tofu coins make a great Meatless Monday supper paired with rice and vegetables, or you can enjoy them as an appetizer. Grating the tofu is a unique way of preparing it that someone who is new to tofu may enjoy. If you enjoy cooking Asian food you may have a lot of these ingredients in your pantry already! If you don't, you can give some delicious new flavors a try. 
This recipe is courtesy of Whitewater Cooks with Friends by Shelly Adams.
What You Need
1 carrot, grated 
1 egg, beaten 
3 tbsp fresh cilantro, chopped 
2 tbsp hoisin sauce 
2 tsp sesame oil  
1 tsp sambal olek (ground chili paste)  
1 tsp salt  
1 block extra firm tofu (400g) grated  
¾ cup flour  
2 tbsp vegetable oil 
Sauce
¼ cup rice vinegar 
1 tbsp hoisin sauce 
¼ cup sweet chili sauce 
½ tsp sesame oil  
How You Prepare Sesame Tofu Coins 
Makes 16 coins   
Squeeze excess moisture from grated carrots (

a clean kitchen towel or cheesecloth works great for this) and place in a large mixing bowl. 

Add beaten egg, cilantro, hoisin sauce, sesame oil, sambal 

olek

 and salt, then mix to combine. 

Add grated tofu to the bowl 

Stir in 4 Tbsp flour and mix well

Form coins by using 2 Tbsp of the mixture patted into 

2 inch

 rounds. If the coins do not stick, add more flour 1 Tbsp at a time. 

Heat vegetable oil in a 

sauté

 pan to medium heat

Dip coins in flour and 

sauté

 in oil until golden (about 2 minutes per side) 

Remove and rest coins on paper towel to absorb excess oil. 

Whisk all the sauce ingredients together in a small bowl and serve either drizzled over tofu coins or as a dipping sauce. 

 
If you're serving these sesame tofu coins as an appetizer, you can place them on a bed of greens before serving. For a main course, serve with rice and your favorite vegetable side.  
Nutritional Information
For 2 coins  
155 Calories 
17.2 Carbohydrates 
6.2 g Protein 
6.7 g Fat. 
1 g Fibre 
Let us know how you enjoyed this recipe for Sesame Tofu Coins. Here are some other tofu recipes if you'd like to try this versatile ingredient in other ways:  
Looking for more simple meal planning tips and healthy recipes for a healthier lifestyle? Sign up for our weekly newsletter for a healthy recipe of the week (and nutrition articles and videos with a balanced living philosophy to help encourage healthy habits but still save room for your favorites). Our nutrition newsletter is written by the Online / Calgary Nutritionists on our team who each hold a professional Registered Dietitian license to ensure you are getting credible advice.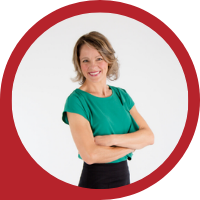 About Andrea Holwegner
CEO, Registered Dietitian, Counseling Practice Director & Professional Speaker
Andrea the «Chocoholic Nutritionist» is founder and CEO of Health Stand Nutrition Consulting Inc. since 2000. She is an online nutrition course creator, professional speaker and regular guest in the media. Andrea is the recipient of an award by the Dietitians of Canada: The Speaking of Food & Healthy Living Award for Excellence in Consumer Education....Read more