Shaping your kids' eating patterns
By Andrea Holwegner, Calgary Herald Jan 26, 2011
It is amazing to observe my niece and nephew, who are almost two and four years old respectively, impersonate their parents. My sister Christa has been a devoted stay-at-home mom, teaching them life lessons, manners and healthy habits.
Recently, my sister baked a fresh batch of cookies; Matthew, who doesn't get treats every day, was ecstatic to have such a decadent snack. He loved them so much that after lunch he was allowed to have one more cookie. My sister declined his polite request to have a third cookie, so while she wasn't looking, little Matthew snuck a cookie under his chair.
Christa firmly said no, they would have some more cookies tomorrow – even after the little negotiator asked: "If I have fruit first, then can I have another cookie?"
While his question was valid, it brings up some important lessons when it comes to eating with young children.
Who is in charge?
Childhood nutrition expert Ellyn Satter suggests the best way to set your kids up for healthy eating is to understand the division of responsibility for caregivers and kids. Parents should provide structure, support and opportunities. Children should choose how much and whether to eat from what the parents provide.
From the time your kids are toddlers all the way through to a teenager, your job as a parent is to determine what, when and where to eat. Your children will be responsible for how much they will eat and whether they will eat at all. Once you accept this, feeding your family will become a lot easier.
My sister did the right thing in offering well-balanced meals but still leaving room for some treats – this way, her kids will learn to enjoy all foods and respect that there are no good and bad foods. She did, however, structure what would be offered and when. This made sure that Matthew didn't fill up on too many cookies, which could have interfered with his ability to eat other meals.
Remember who is in charge. A four-year-old – or even most teenagers – do not have the wisdom to determine what to eat.
Modelling good habits
Your kids are like sponges. While external influences such as the media influence your child's perception about body image and food, they absorb and learn the most from you.
A 2008 research review article in Eating Behaviours suggested that moms directly influence their daughters' eating habits and body image. An October 2000 study in the Journal of American Dietetic Association suggested that from 34 to 65 per cent of girls aged five had ideas about dieting. In fact, when compared to girls whose mothers did not diet, girls whose mothers reported current or recent dieting were more than twice as likely to have ideas about dieting.
Your kids see everything, even when you think they are not watching. If you skip breakfast, yet tell them it is the most important meal of the day, can you see this disconnected mixed message?
Parents who model eating healthy foods and hold a philosophy that there are no good and bad foods set the stage for kids to have balanced eating habits.
Preparing food together, sitting down for meals as a family, keeping physically active as a family and having a healthy attitude to your own body are some of the most important ways you can boost your child's body image and overall health for life.
Andrea Holwegner, "the chocoholic dietitian," is the owner of Health Stand Nutrition Consulting Inc.
Read more:http://www.calgaryherald.com/health/Shaping+your+kids+eating+patterns/4173932/story.html#ixzz1CZClbhIC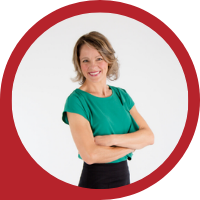 About Andrea Holwegner
CEO, Registered Dietitian, Counseling Practice Director & Professional Speaker
Andrea the «Chocolate Loving Nutritionist» is founder and CEO of Health Stand Nutrition Consulting Inc. since 2000. She is an online nutrition course creator, professional speaker and regular guest in the media. Andrea is the recipient of an award by the Dietitians of Canada: The Speaking of Food & Healthy Living Award for Excellence in Consumer Education....Read more