Should I buy organic veggies and fruits?
Should I buy organic veggies and fruits?
Listen to my QR77 Radio Program here:
Every monday at 4:15pm on QR77 Radio join me and Angela Kokott host of Calgary Today with our segment "You are what you eat" to get the goods on healthy eating. If you missed my segments I will be archiving these audio discussions on my blog here.
Episode 10 – Should I buy organic veggies and fruits?
Listen to Episode 10 here: Should I buy organic veggies and fruits?
You know that eating more veggies and fruit is good for your health. You have also probably heard that produce can contain pesticide residues and wondered about the safety of these. The debate on choosing organic versus conventionally grown vegetables and fruit can be summarized by examining a few things.
It is well established in scientific literature that cultures that eat a high level of plant based foods have health promoting effects. Worldwide most people consume conventionally grown produce and have a reduced risk of heart disease, cancer, diabetes and other issues. Veggies and fruit contain health promoting phytochemicals, fibres, vitamins and minerals. If you are overweight getting enough veggies can also help you to lose weight. They add a significant amount of volume to help fill your stomach without contributing a significant amount of calories.
Buying local and supporting organically grown products will allow this industry to continue to grow and flourish. You are standing behind an industry that is ultimately saying "we care." There is care for the ecosystem as a whole (environment, plant, farmer and consumer). If you are in a financial situation that could afford to buy a few organic items each time you shop, do it. Visit your local farmers market as often as you can. Ask questions about where your food comes from and how it is produced.
The Environmental Working Group releases an annual Shopper's Guide to Pesticides in Produce TM. This is an annual guide where you will find a list of the Clean 15 TM which is produce lowest in pesticides and the Dirty Dozen TM which is produce they suggest you buy organic. To download a free copy of the guide for your wallet visit: www.foodnews.org.
For a list of the foods check out:  http://www.ewg.org/foodnews/summary/
The bottom line:
Simply put – just get enough veggies and fruit. Regardless if your produce is grown organically or conventionally they all contribute to good health. For adults getting 7-8 servings of veggies and fruit per day is ideal for health. While this may sound like a lot keep in mind one serving is equal to 1/2 cup of fresh/frozen fruits/veggies, 1/4 cup dried fruit, 1 cup leafy greens or 1/2 cup unsweetened juice.
Step outside of your comfort zone and choose a wide variety of veggies and fruit rather than limiting yourself to only a few. All plants have different nutrients and phytochemicals that benefit our health. Don't just eat bananas, apples, tomatoes and lettuce. Each week fill your cart with a diverse mix of produce. Go for fresh, frozen and dried fruit as well as fresh or frozen veggies and canned tomatoes. Support local food producers and the organic industry as much as possible.
10 ways to get more veggies and fruit:
Make a rule to have veggies at least twice per day (such as at lunch and at supper).
Eat fresh fruit at breakfast daily or start the day with a smoothie
Choose fresh fruit, unsweetened applesauce or dried fruit for snacks.
Have two types of veggies at supper instead of just one since research supports that if you have more variety you will eat more.
Make your salads more fun. Try adding fresh fruit (such as grapefruit, oranges, kiwi, strawberries, mango or grapes), grilled veggies (such as mushrooms, red peppers, corn on the cob or caramelized onions) or dried fruit (such as dried cranberries, raisins, dates, figs or apricots).
Eat stir-fries more often as well as family favourites such as taco salad or grilled chicken Caesar salad.
Load your pizzas with onions, mushrooms, tomatoes, sun-dried tomatoes, peppers or spinach. For the adventuresome try grilled eggplant, sautéed zucchini or artichokes.
Chop your raw veggies for the week all at once. Serve with hummus or your favourite dip.
Consider vegetable soups such as mixed vegetable soup, roasted red pepper, butternut squash and others.
Take the lead. Watch what happens when you make a fruit salad or take time to slice up the apples kicking around in your fridge drawer. Most people will eat more when someone else prepares it.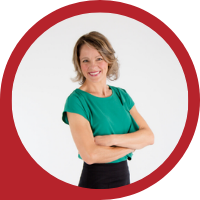 About Andrea Holwegner
CEO, Registered Dietitian, Counseling Practice Director & Professional Speaker
Andrea the «Chocoholic Nutritionist» is founder and CEO of Health Stand Nutrition Consulting Inc. since 2000. She is an online nutrition course creator, professional speaker and regular guest in the media. Andrea is the recipient of an award by the Dietitians of Canada: The Speaking of Food & Healthy Living Award for Excellence in Consumer Education....Read more