Snack Attacks – Managing Sweet and Savoury Snack Cravings
Find it hard to manage cravings for sweets and savory snacks?  Here are some things to consider…
1.  Buy small
Most of us do not eat portions, we eat packages.
Choose to make a trip to the local convenience store to buy a small individual sized bag of chips is often more successful than hoping you will stop a few handfuls into a giant size bag of your favourite chips.
I know that even for myself when I buy a chocolate bar I eat the entire bar regardless of the size (100 calorie small bar, regular bar or family size bar).
Choose to buy small portions of hard to manage foods.
2.  Do the math
Many of my overweight clients have benefited from the shock value of seeing the number of calories, fat and sodium in a full bag, box or package of their favorite junk foods.
If you choose to do this, don't forget to multiply your numbers by two or ten if you eat double or ten times the portion size listed on the label.
Since my husband Mike did an internet search and calculated the number of calories and fat in a typical pub night of beer and wings, he has slowed down the number of these items he could consume over conversation with friends.  Also thinking about how much effort it takes to physically burn this off on his bike has changed his behaviour for good.
3.  Healthier sweet treats and savoury snacks:
Here are some snacks that may help address a sweet or savoury craving while still managing to sneak in some healthy nutrients:
Coffee shop latte, chai tea, London fog (earl grey tea with steamed milk) or mochachino
Homemade frozen yogurt popsicles (simply stir together yogurt, fruit and milk or juice and freeze in popsicle holders)
Raw veggie and pretzel sticks dipped in hummus
Frozen fruit sorbet or frozen yogurt topped with fresh berries
Trans-fat free tortilla chips with fresh salsa
Fruit crisp for dessert instead of pie made with pastry
Whole grain crackers with cream cheese, cucumber rounds and red pepper slices
Homemade vanilla or chocolate pudding made with milk and topped with banana slices and coconut
Celery sticks with peanut butter or almond butter
Chocolate monkey smoothie: chocolate milk, banana and crushed ice whirled together in the blender
Homemade oatmeal raisin or oatmeal chocolate chip cookies and a mug of tea
Hot cocoa made with milk or soy milk or homemade vanilla milk (milk or soy milk with vanilla and a pinch of brown sugar)
4.  When a substitute just won't do
For me as the chocoholic dietitian while sometimes chocolate milk or a mug of hot chocolate might do the trick to soothe a chocolate craving, it certainly won't work all the time.  Healthy eating can and should include your favourite soulful foods you choose simply for enjoyment rather than nutrition.  Sometimes it is better to have a bit of whatever it is you are craving than try and find a substitute.
In my nutrition practice I have coined the phrase "chewing around a craving" which is the act of sampling many items from your kitchen to try and satisfy a junk food craving.  You could go through a range of foods in your kitchen and take in large amount of calories but still feel unsatisfied.  When you eventually end up giving in and eating the food you craved, you might feel overly full and defeated.
A better approach is to take some time to really tune into what you are craving, determine if a substitute will actually work and if it won't, you are likely better off having some of what it is you are craving.  When I say "some" I am referring to the amount of a soulful food that brings you satisfaction.  When you eat to a point of satisfaction, away from television and other distraction you will realized that while a handful of chips might not cut it, you may not need to finish the entire bag to feel content.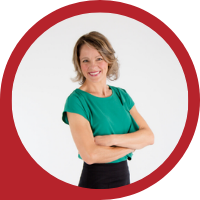 About Andrea Holwegner
CEO, Registered Dietitian, Counseling Practice Director & Professional Speaker
Andrea the «Chocoholic Nutritionist» is founder and CEO of Health Stand Nutrition Consulting Inc. since 2000. She is an online nutrition course creator, professional speaker and regular guest in the media. Andrea is the recipient of an award by the Dietitians of Canada: The Speaking of Food & Healthy Living Award for Excellence in Consumer Education....Read more