Snow-Day Food Smarts
By Andrea Holwegner, Health Stand Nutrition Consulting Inc.
We live in a winter-wonderland… at least for the next few months! While you might be counting the days until spring, it is also fun and inspiring to take advantage of our winters by connecting with the great out-doors. Whether you are skiing, snowboarding, skating, sledding, snow-shoeing, or good old snowman-building, playing in the snow is a blast… And by eating the right foods, you can help keep your face smiling and your cheeks rosy through all your winter fun!
Starting a Snow-day off Right:
Breakfast really is the most important meal of the day – especially on snow days! Enjoy a hearty breakfast that includes:
1) A starch (such as bread or cereal), since carbohydrates fuel your muscles and brain with essential energy. Aim for starches that are high in fibre (such as bran cereal, oatmeal, or whole grain breads), as these will digest more slowly and provide you with longer-lasting energy than refined white breads or sugary cereals.
2) A source of protein, like milk, peanut butter or eggs, to fill you up and extend that energy for even more hours of play, as well as for post-play muscle repair.
3) A fruit or vegetable, to provide you with a great source of energy-boosting carbohydrates, long-lasting fibre, as well as vitamins, minerals and antioxidants that are important for immune function and body recovery after a hard day of fun.
Breakfast Ideas:
Oatmeal or Red River cereal, with almond butter stirred in, a banana, and a glass of milk
Low-fat granola with high-fibre cereal sprinkled on top, berries, yogurt, and a glass of juice
Scrambled egg on half a whole-grain bagel, tomato slices, a cup of tea and an apple on the side
Whole grain pita spread with peanut butter and wrapped around a banana
Staying Fueled Up:
On most days we need to eat every 3-5 hours. Depending on your activity, you may find you need to eat even more frequently, or if having a full stomach cramps your style, you may have to space meals and snacks out a bit further. As a general rule:
1) When doing short bouts of strenuous or intense activity, like hockey, carbohydrates are essential refuel your muscles with the energy you need to keep up the pace. Get carbs from snacks before you start, like fruit (bananas are always handy), fruit bars, dried fruit, granola bars, chocolate milk, juice, or sports drinks. Avoid fat, as well as heavy doses of protein and fibre, since these take longer to digest and can cause cramping during strenuous exercise.
2) If doing lengthy endurance activities, such as skiing or snowboarding, have several high-carbohydrate snacks on hand (see examples above) to continually top up your muscle energy stores and keep your brain focused. Hydration is also essential. Drink water with food, or if going several hours without eating, hydrate with sports drinks to ensure that electrolytes lost in sweat are being replaced.
3) If doing light activities, such as skating or playing in the snow, be sure to enjoy a balanced lunch that includes starch, protein and fruits/vegetables, such as a tuna sandwich with raw veggies on the side, or a wrap with black beans and salsa. Also include light nutritious snacks between meals, such as a granola bar, yogurt or cottage cheese and fruit, veggies and dip, hot chocolate made with real milk, or crackers and cheese.
Recovering:
After a day of fun, it's important to top up your energy stores with carbohydrates, repair your muscles with protein, and rejuvenated with antioxidants found in fruits and vegetables. If you've worked hard, try to eat a high-carbohydrate snack within 15-20 minutes of finishing, replacing energy stores and preventing muscle fatigue over the next few days. Enjoy a balanced meal (carbohydrates and protein) as soon as possible after this.
Rehydrating is also crucial to replace fluids lost throughout the day. Remember that once you feel thirsty you are already dehydrated, so it's important to keep drinking, before, during, and after activities. All fluids (other than alcohol) count towards fluid needs. While water is always best, you can enjoy options such as tea, juice, milk or soup!
Have a Happy Snow Day!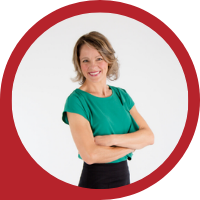 About Andrea Holwegner
CEO, Registered Dietitian, Counseling Practice Director & Professional Speaker
Andrea the «Chocolate Loving Nutritionist» is founder and CEO of Health Stand Nutrition Consulting Inc. since 2000. She is an online nutrition course creator, professional speaker and regular guest in the media. Andrea is the recipient of an award by the Dietitians of Canada: The Speaking of Food & Healthy Living Award for Excellence in Consumer Education....Read more