Sports Nutrition Recovery: What to Eat After a Workout
What, when and how much to eat after intense exercise is crucial to help your body get the most from your workouts and go into your next workout recharged and refueled.
Why is the recovery nutrition meal the most important meal of the day for athletes?
You often hear breakfast is the most important meal of the day. For an athlete or anyone participating in intense weight room workouts or endurance events (such as running or cycling) it is the recovery nutrition meal that is by far the most important meal of the day.
A solid recovery nutrition meal is key so that:
You can be fresh and ready to push hard in your next workout (this is especially important if you are going to be training again soon).
Your muscle energy stores are maximized.
Your muscles can repair and rebuild
You can build up your immune system (since intense exercise can wear this down).
What is more important, carbohydrates or protein?
Both carbohydrate and protein are key in the recovery nutrition meal. Better results are achieved by taking in a mix of carbohydrates with protein rather than either of these alone.
Carbohydrates (carbs)
Found in foods such as grains, potatoes, fruits, vegetables, legumes, milk, yogurt and sweets.
Essential to run your brain and central nervous system.
The preferred energy source for your muscles (like gasoline for a vehicle).
Without enough carbs in your overall training diet you will experience fatigue, lowered endurance, power and strength.
Without enough carbs in the recovery meal you will experience poor energy, muscle fatigue, heavy tired muscles and potentially go into your next workout feeling unrecovered.
Protein
Found in foods such as meat, poultry, seafood, dairy, legumes, nuts, seeds and eggs.
Important for muscle and tissue repair, muscle building, immune function and enzymes that keep your body processes running smoothly.
NOT a preferred energy source for your muscles (carbohydrates are best).
Without enough protein in your overall training diet you will experience poor muscle repair and building, You will also be more likely to pick up a cold or flu. You also may be at higher risk for iron deficiency since high protein foods tend to also be the ones that are good sources of iron.
Without enough protein in the recovery meal specifically, you run the risk of going into your next workout with a run down immune system and sore muscles.
How soon and how much should I eat after a workout?
Timing is key. As soon as possible (ideally within 30 minutes of completing your high-intensity workout) begin refueling with a snack or meal. Consume water and food to supply fluids, electrolytes, carbohydrates and protein.
Sample recovery meals after high intensity or endurance based workouts:
BREAKFAST RECOVERY MEAL:

Water, cottage cheese or Greek yogurt with berries and granola and a peanut butter and jam sandwich.
SUPPER RECOVERY MEAL:


Initial snack if supper is delayed: Water, homemade fruit and nut power bar
Stir-fry with chicken/meat/tofu, mixed veggies and rice. Glass of milk or almond milk.
LATER EVENING RECOVERY MEAL:

Initial snack: Water and Homemade muffin(s)
Smoothie made with unsweetened juice, frozen berries/mango, banana as well as Greek yogurt and hemp hearts (or alternatively protein powder).
Here are the technical numbers of what you need post recovery as suggested in the recent 2016 Joint position paper of Dietitians of Canada, the Academy of Nutrition and Dietetics and the American College of Sports Medicine:
A carbohydrate intake of approximately 1-1.2 g/kg/h (1-1.2 grams of carbohydrate per kilogram of body weight per hour) starting soon after exercise and continuing for 4-6 hours.
A protein intake of about 0.25 -0.3 g/kg (0.25 – 0.3 grams of protein per kilogram of body weight).
A fluid intake of 1.25 – 1.5 liters of fluid for every 1 kilogram of body weight lost (due to sweat loss during exercise). 
Should I reduce my recovery intake if I am trying to lose weight?
No. Never sacrifice good nutrition, sufficient calories and enough carbohydrates and protein post workout. This is the most important time of the day for you to refuel and ensure your body will respond well to the workout and also to ensure you will go into the next workout strong instead of run down, sore and low energy. If you need to reduce your intake, do so at other times of the day but keep your recovery nutrition intake high.
If you are training hard and also working on body composition goals to shift your weight work with a Sports Dietitian that can help you figure out a custom plan to achieve both of these goals simultaneously.  For more information about sports nutrition and our Calgary nutrition counselling practice (or for phone and skype appointments) with our sports dietitian contact us here.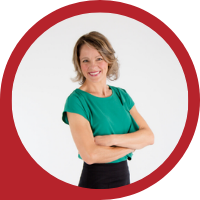 About Andrea Holwegner
CEO, Registered Dietitian, Counseling Practice Director & Professional Speaker
Andrea the «Chocolate Loving Nutritionist» is founder and CEO of Health Stand Nutrition Consulting Inc. since 2000. She is an online nutrition course creator, professional speaker and regular guest in the media. Andrea is the recipient of an award by the Dietitians of Canada: The Speaking of Food & Healthy Living Award for Excellence in Consumer Education....Read more