Join Us! Spring Nutrition Bootcamp: Online Event & Resources
How to get your nutrition back on track

Join the Spring Nutrition Bootcamp!
Are you struggling with emotionally over or under-eating and worried about the so-called 'quarantine-fifteen'?
Or maybe you're anxious about over or under buying food?
Or perhaps you're craving junk food and stuck for ideas of what to eat?
As a Registered Dietitian for 20 years I know that eating healthfully isn't always easy. If you are like many of the clients our virtual Dietitian team is seeing right now, I'm willing to bet the last few months have been extra challenging for you with working and schooling from home.
To help you navigate a solid yet simple nutrition game plan for your home, I've put together this special online training and key resources to help you get back on track.
The good news is you don't need to make this complicated.  You also don't need to eat perfect (after all as the chocoholic nutritionist I will always teach you strategies that save room for your favorites like chips and chocolate).
I hope you will join me.  Find out all the details about my SPRING NUTRITION BOOTCAMP here:
This laser focused online event and supporting resources are designed to help you with:
Strategies to reduce anxiety about the competing challenges of scarcity AND abundance of food in your home.
How to combat chaotic eating. Get back on track with clarity about what and when to eat.
Finding peace of mind with how you shop and what you stash in your pantry and fridge.
A blueprint for building simple healthy meal and snack choices.
Guidance to help you tackle cravings for sweet and savoury foods and begin managing emotional eating. 
Who is this nutrition bootcamp for?
Busy people that haven't got around to figuring out how to plan, shop and cook healthy yet simple meals.
Overwhelmed families that are working and schooling from home that need a practical eating plan to get everyone in the house on track with healthier habits.
Those that live alone that are experiencing higher levels of loneliness and depression that need encouragement and motivation about how to best fuel themselves.
Those that like most food and don't want to follow restrictive diets and food rules that steal enjoyment (in other words if you like chocolate and potato chips this session is for you!)
Right now you have a choice.  The choice to let your eating patterns go sideways and be stressful and mindless…
OR You can come up with a simple clear healthy eating game plan. One that feels clear, simple and responsive.
I'm nudging you to be the eating role model and leader of health for yourself and your family that I know you want to be. Imagine looking back at this unique period of time and reviewing your efforts for 'COVID coping' and feeling proud of the proactive steps you took for your health.
You don't need to make this complicated or spend hours trying to figure this out. I can teach you simple strategies in the short online training and give you the supporting resources and cheat sheets to make eating at home simpler. You also don't need to eat perfect (after all as the chocoholic nutritionist I will always teach you strategies that include your favorites like chips and chocolate).
Join me and other like-minded action takers in my upcoming spring training by signing up below.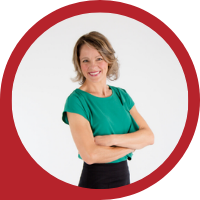 About Andrea Holwegner
CEO, Registered Dietitian, Counseling Practice Director & Professional Speaker
Andrea the «Chocoholic Nutritionist» is founder and CEO of Health Stand Nutrition Consulting Inc. since 2000. She is an online nutrition course creator, professional speaker and regular guest in the media. Andrea is the recipient of an award by the Dietitians of Canada: The Speaking of Food & Healthy Living Award for Excellence in Consumer Education....Read more