Stand Your Ground, Loudly & Proudly
I've just returned from presenting at the Dietitians of Canada annual conference in Ottawa with my talented colleague, Patricia Chuey, "The People's Dietitian." Our session was on empowering dietitians to "stand your ground, loudly & proudly." Dietitians are equipped with credible university training and practical insight about what works to shift lifelong habits. While our message as dietitians can seem boring in a world full of so-called nutrition "experts" and celebrities with trendy gimmicks and sexy eating regimes, you can count on us for sound advice.
Ironically, Registered Dietitians which are THE nutrition experts, are similar to many highly competent and resourceful people I know. We sometimes lack confidence since we want to get it "right." What is holding you back from achieving more of what you want in life? I bet it is the F word (fear of failure). "Fail forward." It is about progress not perfection.
You will never have all the answers. You will never be fully prepared with all the expertise you need. No fear likely means you are not stretching enough.
Have the courage to show up and be seen. Be willing to stand your ground, loudly and proudly no matter if you are zigging when everyone else is zagging. Sometimes we just have to trust our gut, lead from the heart and take a blind leap of faith.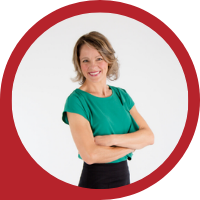 About Andrea Holwegner
CEO, Registered Dietitian, Counseling Practice Director & Professional Speaker
Andrea the «Chocolate Loving Nutritionist» is founder and CEO of Health Stand Nutrition Consulting Inc. since 2000. She is an online nutrition course creator, professional speaker and regular guest in the media. Andrea is the recipient of an award by the Dietitians of Canada: The Speaking of Food & Healthy Living Award for Excellence in Consumer Education....Read more