Start the day off right! Break-the-fast. Listen to my QR77 Radio Program here
Every monday at 4:15pm on QR77 Radio join me and Angela Kokott host of Calgary Today with our segment "You are what you eat" to get the goods on healthy eating.  If you missed my segments I will be archiving these audio discussions on my blog here.
In this segment I will be exploring how to start the day off right with a balanced breakfast.
Listen to Episode 2: March 19, 2012 here:  Episode 2: Start the day off right! Break-the-fast
Here are some of the highlights of today's segment
What are the 3 things mom always says…wear clean underwear, wash your hands and eat breakfast….Mom was right…."breakfast is the most important  meal of the day!
Seems so simple but often skipped.
Why is it so important?
Breakfast sets the stage for the entire day.  It giving our brain essential energy, improves our ability to concentrate and focus as well as boosts mood.  Eating breakfast can help you manage a healthy weight and also lose weight if you are overweight.  Research shows people that eat breakfast are less likely to be overweight.  If you are struggling with overeating in the evening one of the single most important things to look at is your breakfast.  If you are underrating in the early part of the day, you will likely overeat later.
 What can we learn from Sumo wrestlers about breakfast?
Ever wondered what a Sumo wrestler eats for breakfast?  You might be dreaming of a loaf of bread, a pound of bacon and a dozen eggs.  Actually they eat absolutely nothing.  One of the best ways to maximize fat storage is to starve the body of essential energy during the day when you need it most and eat the majority of your food intake just in time for bed.  On the other hand, healthy weight management involves eating breakfast which sparks the metabolism and helps you burn energy for the day ahead.
 How soon after waking should we eat breakfast?
Ideally choose a breakfast within one hour of waking.  If you absolutely despise eating in the morning and find this difficult, try to have breakfast at the first available time you think you could stomach something (I bet this is before noon!).  Also consider making a deal with yourself that you don't have coffee until you eat something.  Coffee without breakfast will give you a false energy that won't last.
What constitutes a healthy breakfast meal?
A healthy breakfast should include 3 things:
1.  Grain/starch (such as toast, oatmeal, cereal etc.)
2.  Vegetable and/or Fruit (such as fresh/frozen/dried fruit, veggies or unsweetened juice)
3. Source of Protein (such as cheese, milk, soy milk, eggs, meat, nuts, nut butter etc.
Listen to this program and see how you score on my 10 point breakfast quiz!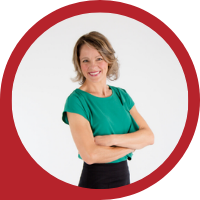 About Andrea Holwegner
CEO, Registered Dietitian, Counseling Practice Director & Professional Speaker
Andrea the «Chocolate Loving Nutritionist» is founder and CEO of Health Stand Nutrition Consulting Inc. since 2000. She is an online nutrition course creator, professional speaker and regular guest in the media. Andrea is the recipient of an award by the Dietitians of Canada: The Speaking of Food & Healthy Living Award for Excellence in Consumer Education....Read more