Starting sucks, finishing rocks
I've dreaded Thursday mornings over the last 6 months when my annoying alarm clock would go off at 5:15am. Tossing my first-ever road bike into the car and heading to the Doctrine JCC Revolution Studio in the dark on cold winter days wasn't exactly motivating. So why did I do it? Stubborn, I guess, and a sucker for a challenge. (There may have also been some self-induced pressure to learn how to actually ride the nice road bike I purchased that was FAR beyond my beginner ability). I learned about gearing, cadence and efficiency thanks to my instructor Laura and the challenging programs coach Trev put together. I feel stronger and have a sense of accomplishment for sticking with it. I am hoping I won't feel like my lungs are going to explode this spring when I hit the road with my hubby, Mike. Lesson? Starting sucks, finishing rocks!
Next challenge? A running race. I haven't ran 10km in over a decade but the Jugo Juice team challenged me to run with them in the Jugo Juice 10K as part of the Scotiabank Calgary Marathon May 31st. Join me and stop by the Jugo Juice booth afterwards where I will be serving up the new Speed Date Smoothie.
What's your spring challenge that pushes you outside of your comfort zone? I would love to hear from you!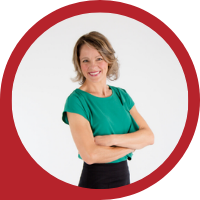 About Andrea Holwegner
CEO, Registered Dietitian, Counseling Practice Director & Professional Speaker
Andrea the «Chocoholic Nutritionist» is founder and CEO of Health Stand Nutrition Consulting Inc. since 2000. She is an online nutrition course creator, professional speaker and regular guest in the media. Andrea is the recipient of an award by the Dietitians of Canada: The Speaking of Food & Healthy Living Award for Excellence in Consumer Education....Read more