Summer Challenge
By Andrea Holwegner, Health Stand Nutrition Consulting Inc.
Slow and steady really does win the race for lasting results. This summer as you think about making changes to your food choices consider that it is far better to stick to small changes one by one than to do an extreme makeover of your diet and follow it for a short period of time. Here is a list of 20 challenges that you could do – scroll through the list and pick ONE or a maximum of three to try this week. Resist the urge to try to do a large number of these – you can always add on additional challenges in weeks to come.
Drink 6-8 cups of FLUID today (besides water – tea, juice, and milk count too!)
Go for one extra serving of fruit today – one serving is equal to ½ cup of fresh/frozen/canned fruit, a dried fruit bar, ½ cup juice, or ¼ cup dried fruit.
Have veggies twice today (at lunch AND at supper) – try raw veggies, cooked veggies, salad or vegetable juice.
This week when grocery shopping pick out and try one new fruit or veggie you have not tried before.
Try brown/wild rice, whole wheat pasta, or anotherhigh-fiber grain this week.
Choose a breakfast cereal with over 5g of fiber per serving.
Get a good source of heart healthy omega 3 every few days (fresh/frozen/canned seafood/fish, walnuts, ground flax seeds, canola/soybean oil are just a few ideas to get you started etc.)
Eat a snack if it is going to be longer than 3-5 hours before eating a meal.
Pack a snack in your workout bag that you could eat within 15-20 minutes to ensure you recover well from your workout.
Allow yourself flexibility in your eating and ensure you plan indulgences of your favorite treats throughout the week. After all, you don't have to be perfect!
Get enough calcium for your bones. Consume 3 servings per day of the following (1 cup milk/soy milk; ¾ cup yogurt; 1.5 oz cheese)
Take a multivitamin daily to top up your vitamins/minerals.
Try incorporating beans/legumes, soy products, or tofu once (or more) this week. Some ideas…hummus, lentil soup, refried beans in a wrap, tofu in a stir-fry, or chick peas in a salad.
Make a grocery shopping list this week and stick to it.
Today write down ideas for 2 weeks of healthy suppermenus you could make quickly.
Eat out one less time this week or make a healthy choice one more time this week when eating out.
What's "eating you"? Before you eat today think about if you were really hungry or if you were triggered to eat because of emotional/stress/habit.
Drink one less cup of coffee today or switch your bigger sized coffee to a smaller size.
When shopping this week aim to buy at least 3 different types of fruit and at least 4 different types veggies.
Eat at least 3 times this week – resist skipping meals.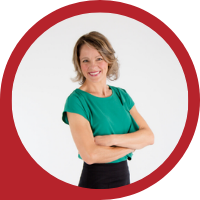 About Andrea Holwegner
CEO, Registered Dietitian, Counseling Practice Director & Professional Speaker
Andrea the «Chocoholic Nutritionist» is founder and CEO of Health Stand Nutrition Consulting Inc. since 2000. She is an online nutrition course creator, professional speaker and regular guest in the media. Andrea is the recipient of an award by the Dietitians of Canada: The Speaking of Food & Healthy Living Award for Excellence in Consumer Education....Read more