Summer Workplace Productivity:
How to Keep Your Team From Losing Steam as the Summer Heats Up
Summer vacation planning, juggling new childcare schedules, co-worker holidays causing increased workloads – the easy, breezy days of summer can be a corporate nightmare to stay on track! Continuously changing demands at work and home, combined with the desire to come in late and leave early to enjoy the longer sunny days, can cause employee productivity to take a nosedive during the summer months.
If this sounds like your office, you are not alone! Declines in workplace productivity during the summer is not a corporate myth, and have been substantiated in various studies, in addition to internal productivity reports.
Workplace productivity goes down 20%, attendance dips 19%, project turnaround times increase 13% and they are more distracted 45%.
– Summer Productivity Study by Captivate Office
Summer declines in workplace performance can be attributed to several factors, which typically combine to create a Bermuda Triangle of productivity – it's mysteriously gone, and no one can pinpoint where it went!
Here are five factors that contribute to declines in summer workplace productivity:
Fatigue
People's personal schedules do change during the summer. Children aren't in school, so the whole family tends to stay up later at night to enjoy the weather, participate in special summer activities during the longer evenings, and go to bed later. Unfortunately employee workdays don't begin later in the summer!
Summer Hours
In an effort to accommodate their employees, many offices implement 'summer hours' to allow employees more flexibility and control over their workday. Popular summer flex schedules include:
Early closing on Friday
Telecommuting
Flexible work days
The result of working fewer hours per week or temporarily working from home during the summer can result in lowered employee productivity.
Workplace Events
Many offices schedule corporate events during the summer months – family days, employee picnics, team building exercises to a sporting event or challenge. Not only does it take staff time to plan these events, but employees and managers needs to make staffing accommodations to allow employees to participate – and still try to get the work done.
Heat and Humidity
Before air conditioning was common, everyone expected less productivity during the summer – it was simply too hot indoors to do as much work as you can do when the workplace is more comfortable. Other than the AC wars – employees battling over the 'right' temperature setting – modern offices are comfortable to work in year-round. But the emotional feeling that it's too hot to work pervades, even for people who've grown up with air conditioned homes, schools and workplaces. In fact, because our bodies aren't conditioned to living in long periods of high heat and humidity, even a short time spent in those conditions can physically and emotionally sap your workforce!
Summer Foods and Cocktails
One of the key perks of summer is the abundance of summertime treats – sweet alcoholic drinks to cool you off, ice cream novelties enjoyed in the sunshine, barbecues with friends and family starting with rich appetizers and ending with gooey desserts. The after effects of an over-indulgent weekend result in a sluggish Monday morning at the office.
Employees struggle with a general feeling of being overwhelmed during the summer months. Eating well becomes one of the first things to go when stress takes over. 
– Andrea Holwegner, BSc, RD
Does this sound like your summer workplace?
Employees who are exhausted and stressed at the start of the week, and by the end of the week have become certified clock-watchers?
10 minute cooler chat turning into hours of chatter about holidays and summer activities?
Parents on the phone with kids trying to juggle childcare and summer schedules?
Co-workers burnt-out trying to do their own jobs and cover for colleagues on summer holiday?
How to Improve Employee Productivity During the Summer
Set Performance Expectations
Before the summer starts make performance standards clear and communicate them to employees before the summer begins and continue to reinforce the standard.
If summer is typically a slow time for your business, openly acknowledge that and encourage your team to take mini-vacations or shorter work weeks or offer summer hours.
Many businesses recognize that the week between Christmas and New Year is unproductive and simply shut the business down, but expect normal productivity levels the weeks before and after the holiday. Does this strategy work for your workplace during the summer?
Let your team know how they're performing – if productivity is down during the summer, let employees know and work together as a team to improve workplace efficiency.
Walk The Talk
If managers expect continued levels of high productivity during the summer, they need to demonstrate their own level of productivity is unchanged. An office where the workforce is expected to maintain standards across the summer while management takes long vacations or shortens their workweek is destined for problems.
Performance coach Brendon Burchard, author of High Performance Habits: How Extraordinary People Become That Way, says leaders must raise necessity to increase productivity: they need to explain why its important to be productive and successful – and influence improved performance by their own actions.
Communicate and coordinate vacations between a team and management in advance, recommends workplace expert Lynn Taylor. Some bosses prefer that their staff work while they're on vacation to maintain coverage, while others prefer that you take vacations at the same time.
Office Design
Finding an agreeable AC setting can be a workplace challenge: but constantly adjusting the thermometer leads to less efficient air conditioning – and major stress between co-workers!
Agree on an air conditioning setting and keep it there. Many thermometers can be locked to prevent tinkering.
Office fans are useful to provide comfort in areas where the AC reach isn't sufficient.
Outdoor walking meetings help people feel less confined and resentful that they're 'missing out' on the summer weather.
Rooftop and garden workstations complete with wifi are becoming popular with many companies and landlords.
Hydrate
Even mild dehydration causes a drop in workplace productivity – just 1% dehydration has been found to decrease worker productivity by 12%. The more dehydrated a worker becomes, the more severe their drop in productivity becomes: 3-4% dehydration can bring about a 25% decline in worker productivity. At just 1% dehydration, workers begin experiencing decreased cognitive abilities, reduced concentration and alertness, and slower reaction times.
Becoming dehydrated is easier in the summer – even indoors! A common cause of dehydration in the workplace is air conditioning, which causes low water content in the atmosphere, leading to increased water loss from the lungs and through the skin. A lack of adequate hydration at work can cause symptoms such as tiredness, loss of concentration and headaches.
Provide free bottles of water to employees throughout the day in break rooms, at meetings and stocked in the fridge.
Install water coolers.
Give all employees a water bottle and encourage them to refill and drink throughout the day.
Provide Productivity Fuel
Provide your team with energy-boosting foods to keep their brain productive, their mood balanced and to fight weekday fatique. Many offices strive to keep the workplace "fun" during the summer and provide sweet summery treats during the workday – ice cream socials, donuts and other sugary snacks. Sugary snacks actually contribute to weekday fatigue, with a typical sugar-high spike in energy followed by a crash – and cravings for more sugar.

10 Workplace Snack Options to Boost Employee Energy and Productivity
Employers who want to provide healthy snacks for the workplace should follow the basics of good energy and blood sugar management. An ideal snack for productivity should contain a mix of both carbohydrates and protein.
Trail mix or separate containers of nuts (such as almonds, pecans, walnuts, pumpkin seeds) and dried fruit (such as raisins, figs, prunes and apricots).
Mini cans of flavoured tuna and whole grain crackers.
Healthy cereal/parfait station (low sugar, high fibre boxed breakfast cereals, oatmeal, granola, hemp hearts, chia seeds, dried fruit, fresh fruit, cartons of milk and containers of yogurt).
Healthy smoothie station (supply blenders, yogurt, bananas, frozen unsweetened berries/mangoes/peaches, yogurt, milk and almond milk).
Unsweetened applesauce cups, fresh whole pieces of fruit (such as bananas, apples, pears, oranges) and individual packages of cheese (or catered fruit and cheese tray).
Trays or individual containers of raw veggie and dip. Also consider bowls or individual portions of Caprese salad, Greek salad, bean salads or quinoa veggie salads.
Whole grain bread, mini-bagels or English muffins and nut butters (such as peanut butter, almond butter) along with cream cheese.
Hard cooked eggs (store bought packs of two or catered) and fresh fruit.
Chilled shrimp, chicken, beef or pork and veggie skewers.
Greek platter with whole wheat pita bread, hummus, tzatziki and/or baba ghanoush.
Promoting physical and mental wellness is a key strategy to maintain a productive workplace during the summer months. Companies can't control what their employees do on their free time. But there are actions employers can take to provide a healthier workplace where employees are happier and more productive – even in the summer! Whatever workplace productivity actions you implement at your workplace this summer, as The Chocoholic Nutritionist I believe anyone can achieve health without guilt or complexity, and that the secret to success is having fun!
Contact me for assistance with employee nutrition initiatives including:
healthy menu and catering menu development
Want to read more? Sign up for our quarterly EnterTHRIVE Corporate Wellness newsletter below:
[thrive_leads id='23139′]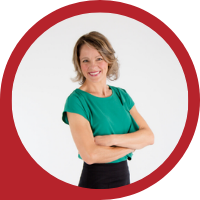 About Andrea Holwegner
CEO, Registered Dietitian, Counseling Practice Director & Professional Speaker
Andrea the «Chocolate Loving Nutritionist» is founder and CEO of Health Stand Nutrition Consulting Inc. since 2000. She is an online nutrition course creator, professional speaker and regular guest in the media. Andrea is the recipient of an award by the Dietitians of Canada: The Speaking of Food & Healthy Living Award for Excellence in Consumer Education....Read more