Take time to eat together as a family
Take time to eat together as a family
By Andrea Holwegner, For The Calgary Herald   December 2, 2010
Some time ago I was at the bank in a suburb community shopping complex, with the usual big box stores and fast-food restaurants.
As I was about to get into my vehicle, I noticed a dark-blue minivan, in desperate need of a wash, hastily pulled into a parking stall. The driver's door opened and out popped a woman on her cellphone. She yanked open the van's sliding door and out jumped three cute kids dressed in soccer uniforms.
The woman, evidently their mother, urged them to move it. "Hurry up, we're going to be late for the game!"
As they rushed into one of the fast food outlets, a sign posted in the restaurant window caught my eye: "You Deserve Better," it read in big, red letters.
I thought about the irony in that message as I drove away: how we had become a culture that rushed kids through a junk-food meal to try to get them to a game on time.
The soccer mom was trying to do the right thing by keeping her kids active. But was this the kind of meal needed to fuel sport? Was food gobbled off a plastic tray really what a family meal should look like? Can kids really learn to enjoy a wide variety of healthy foods by choosing their favourites off a menu?
As a dietitian, I sure didn't think so.
As a foodie who believes food is one of life's greatest pleasures to be enjoyed and celebrated, I also started to wonder about the experience of a speedy meal inhaled in minutes. Did this family actually have a chance to connect in an atmosphere that encourages dining and dashing? Did they have the same meaningful conversation about the highs and lows of life that research has shown happen at home around a family dinner table?
No, I really don't think so.
The truth is you deserve better. You and your family deserve to eat fully: healthfully, but also soulfully. Taking time to eat together as a family and fit in nutrition at the real speed of life is not only important, but I believe essential. The payoffs are big; healthy weight, greatly improved health and a new level of family connectedness and enjoyment.
I grew up in a family of five where we were all expected to be home for dinner at 6 p.m. I don't remember ever begrudging this, even as a moody teenager. It was a normal and an expected part of the day. Supper was likely the only time of the day where all of us got together amid busy sports, school and work commitments and actually communicated. Today, I realize how lucky I was to have parents (especially a mom) who fought to make sure we ate together as a family.
A 2008 article in the Canadian Journal of Dietetic Practice and Research found that only about one-quarter to one-half of adolescents consume meals with their family regularly (five or more times a week). Could this be one of the reasons that over one-quarter of Canadian children and adolescents are overweight or obese?
Do dwindling family meals have anything to do with the fact that eating disorders rank as a common chronic illness in adolescent females? A 2006 research article in Health Education Research suggested that an estimated 50 per cent of girls and 30 per cent of boys report they are dissatisfied with their bodies. Could simply eating together as a family help?
I believe it can.
There are stacks of statistics to show family meals have substantial benefits. Families that dine together generally eat more fruits, veggies, fibre, vitamins and minerals, and consume fewer fried foods, soda and unhealthy fats.
The more often you have family meals, the less likely your teen is to use and abuse tobacco, alcohol and marijuana, have a low grade point average and depressive symptoms and become suicidal. Families that eat together are also less likely to be overweight and have disordered eating habits.
While I am not saying it is easy, you can't assume that your kids are going to learn the critical healthy eating messages they need outside your home. Here is my challenge to you: eat at least one meal every day with your family. Try supper or even breakfast.
Then observe over time the positive changes that can happen when you fight for family meals.
Andrea Holwegner is president of Health Stand Nutrition Consulting Inc. Visit www.healthstandnutrition.com and www.chocoholicdietitian.com or phone 403-262-3466 for more information on personalized nutrition counselling, seminars and to subscribe to a free monthly e-zine.
Read more: http://www.calgaryherald.com/health/Take+time+together+family/3916405/story.html#ixzz16zXdHeZs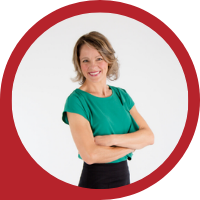 About Andrea Holwegner
CEO, Registered Dietitian, Counseling Practice Director & Professional Speaker
Andrea the «Chocolate Loving Nutritionist» is founder and CEO of Health Stand Nutrition Consulting Inc. since 2000. She is an online nutrition course creator, professional speaker and regular guest in the media. Andrea is the recipient of an award by the Dietitians of Canada: The Speaking of Food & Healthy Living Award for Excellence in Consumer Education....Read more