Tasty Cooking Tips from Canada's Leading Culinary Dietitians PART 1
When people find out I am a dietitian they often think I eat boring bland health foods and have no fun. I don't blame them, because the word dietitian contains the word "diet" and also contains the word "die."
Surprise, nutrition geeks like tasty food too! As the chocoholic nutritionist (a.k.a. lover of both healthful and soulful foods), you can imagine my excitement when I had the pleasure of connecting with five of the top culinary dietitians at a recent conference. If you think healthy eating involves deprivation and foods that taste like birdseed or rabbit food, read on!
Meet 5 of the Top Culinary Dietitians:
• Patricia Chuey, B.C.'s "foodtritionist" (a hybrid of home economist and dietitian) and author of six cookbooks.  www.patriciachuey.com  @PatriciaChuey
• Adam Hudson, the dietitian of the Port Hope Community Health Centre in Ontario, and co-owner of Demos for Dietitians.  www.demosfordietitians.com @adamhudsonRD
• Stephanie Clairmont, owner of Clairmont Digestive Clinic in Waterloo, Ont., and co-owner of Demos for Dietitians.  www.stephanieclairmont.com @GlutFreeItalian
• Kristyn Hall, a "personal trainer in the kitchen," and a Calgary consulting dietitian/nutritionist.  www.calgary.healthcastle.com  @kristynhall
• Heather McColl, Save-On-Foods dietitian, chef, cookbook co-author/contributor, food stylist and Vancouver blogger.  www.freshsheetnutrition.com  @HeatherRD
Here's what they had to say:
Myths about healthy cooking:
Our experts agreed that the most common misconceptions about healthy cooking was that the food won't taste good, it is hard to make, takes too much time and is too expensive.
"Healthy cooking is not about being all or nothing. There are many ways to get rich-tasting foods and meals in your kitchen without solely relying on less healthful ingredients" says Hall.
"Oil and butter are your flavour friends," says McColl. "This doesn't mean that you drown your food in them, but use a little bit as fat absorbs flavours better than water and helps flavours linger on your tongue longer."
"Sugar, fat and salt makes food taste good. With healthier cooking you can't rely heavily on these items and must showcase seasonal local items and build flavour naturally" says Clairmont. "While many chefs cop out and use cream, a good risotto is made by slowing adding hot liquid to bring out the creaminess in the grain naturally."
Chuey reminds her clients that are short of time to "plan and think about at least three meals you can make each week. Shop for ingredients for those and purposely make plan-overs to cover lunches and a secondary dinner meal from each of the three meals."
Clairmont also suggests multi-tasking active tasks (such as stirring or chopping) once you have inactive time (such as waiting for soup simmering or chicken baking).
Since Hudson has worked with many low-income families, his cooking classes empower clients to buy bulk items and portion at home and to substitute recipes with seasonal foods on sale. "I teach cooking classes from the local flyer of the week; we will use fresh strawberries in June and fresh tomatoes in August" says Hudson. He also instructs his clients cost saving tips such as how to debone a chicken breast to save approximately $2 per pound.
Must have items for a healthy kitchen:
McColl summed up must have items for the kitchen nicely. "A well stocked pantry and a good selection of real food, a good knife and cutting board, a solid saute/frying pan and pot. A few inspirational photos of healthy meals on the fridge — print off a Pinterest board if you have one (a binder of favourite healthy recipes or a favourite cookbook for inspiration is great too), good music, helping hands (especially for families) and perhaps some fresh herbs on the patio or windowsill."
Our other experts had similar things to say. Hall suggested a hand blender is great for soups and loves the versatility of a food processor. "In no time at all, I can shred carrots, cucumber and beets for an instant salad or a fresh addition to my sandwich. I can shred cheese in 20 seconds, saving me money by not buying pre-shredded cheese at the grocery store."
Clairmont and Hudson also added that while many people have non-stick pans, a metal frying pan is one of the most important items in your kitchen for the purpose of browning (fond) and deglazing for flavouring poultry, fish and sauces.
Keeping flavour while cooking healthier:
Top strategies quoted by all our experts for maximizing flavour included using fresh ingredients. "If they are out of season — go with frozen (frozen at their peak of freshness), dried or canned. As an example, use canned tomatoes in the winter — not unflavourful fresh ones," says McColl.
McColl also suggested pairing rich foods with lighter foods for balance. One example is ribs with coleslaw that has colour (carrots, green and purple cabbage) and a yogurt-based dressing.
Hudson enjoys coming up with ways to make traditional foods healthier. He teaches a rural "men with knives" cooking class and his clients successfully report making homemade Caesar salad dressing that contains soft tofu. He also takes pride in teaching kids to make and scarf down brownies that contain black beans and a healthier version of poutine with baked oven fries, good quality cheese and homemade gravy.
Hall recommends homemade vinaigrettes, capers, pickled vegetables, pesto, date jam, red pepper jelly, hummus and tzatziki. She suggests learning how manipulate the natural properties of the food. "One of my favourite techniques is roasting, which concentrates the natural sugars already present in the food, making the food taste sweeter. For example, roasted vegetables can be eaten on their own as a side dish, or can be repurposed into a frittata or as a topping to a bed of spinach."
Top strategies Chuey offers includes toasting nuts before using in a recipe and slow roasting meats to tenderize and allow flavours to develop. She recommends starting soups and stews with a "mirpoix" (saute onions, garlic, carrots and celery as a base along with a little salt, pepper and dried herbs of choice).
"Dessert can be delicious and healthy too" according to Chuey. Try grilled pineapple, peaches or pears as well as baked apples stuffed with oatmeal, cinnamon and raisins, frozen fruit sorbets and homemade dark chocolate pudding.
Easy healthy supper meals:
Want to know what some of Canada's top culinary dietitians have for supper when they have less than 30 minutes to prep a meal? Find out this along with more healthy cooking tips and each experts favorite cookbooks and resources in a continuation of this article on my blog at www.healthstandnutrition.com/healthy-cooking-tips-from-canadas-top-culinary-dietitians-part-2.
Dietitian Andrea Holwegner "the chocoholic nutritionist" owns Health Stand Nutrition Consulting Inc. Visit www.healthstandnutrition.com or phone 403-262-3466 for nutrition counselling, speaking engagements and to subscribe to her free monthly ezine or blog. Twitter: ChocoholicRD
---
Shaved Asparagus Salad
By Adam Hudson, Registered Dietitian
2 tbsp honey
2 tbsp Dijon mustard
2 tbsp apple cider vinegar (balsamic or plain will work as well)
1 tbsp fresh squeezed lemon juice
Pinch of salt and pepper.
2 to 3 tbsp olive oil.
1. To shave the asparagus, place a spear onto a flat surface. Using a vegetable peeler, start from the bottom of the stalk and peel upwards to the tips to create thin shavings. Work your way around the spear until it is too thin to shave. Repeat with remaining spears and place shavings into a mixing bowl. Set aside.
2. For the dressing: Mix all ingredients into a bowl except for the olive oil. Using a whisk, stir to incorporate all ingredients together and slowly drizzle in the oil while continuing to stir. Set aside.
3. When ready to serve, add enough dressing to lightly coat the asparagus shavings and toss very gently. Top with grated Parmesan and serve immediately.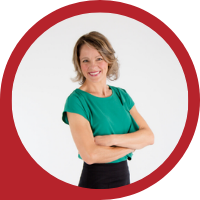 About Andrea Holwegner
CEO, Registered Dietitian, Counseling Practice Director & Professional Speaker
Andrea the «Chocoholic Nutritionist» is founder and CEO of Health Stand Nutrition Consulting Inc. since 2000. She is an online nutrition course creator, professional speaker and regular guest in the media. Andrea is the recipient of an award by the Dietitians of Canada: The Speaking of Food & Healthy Living Award for Excellence in Consumer Education....Read more