Things Nutritionists Like: Smoothies
As a Registered Dietitian why do I love smoothies?

This post is sponsored by Jugo Juice
Smoothies are an easy way to get more fruits and veggies that supply key vitamins, minerals, fibre and phytonutrients (health-promoting components in plant-based foods) needed for good health and reducing the risk of heart disease and cancer.
March is annual nutrition month and this year's campaign theme focused on making small changes instead of trying to change everything at once.
The most recent Canadian Community Health Survey showed that 60% of Canadians reported that they did not consume fruits and vegetables five or more times per day. This may mean for many Canadians they are simply not getting enough fruits and veggies for good health.
Smoothies are a great solution for:

breakfast on the go
a healthy snack option for both kids, teens and adults
a top choice for post workout recovery for athletes
a portable option for families on route to and from activities such as hockey, soccer, dance and more
Watch nutritionist Andrea Holwegner discuss how to make a healthy smoothie with Jugo Juice on Global Calgary TV:
What is the difference between juicing, smoothies and other "fruit" beverages?
I like to think of fruit beverages in three classes:
Healthy smoothies
Made fresh with fresh or frozen unsweetened fruit, veggies, unsweetened juice, yogurt, milk/non-dairy milk and other wholesome ingredients found in a healthy kitchen.
Smoothies offer the best nutrition since whole fruits, veggies that supply fibre and phytonutrients are included. Other wholesome ingredients such as calcium-rich foods and protein-rich items (that add satiety) can also be blended.
Fresh pressed juice (juicing)
Made from whole food ingredients such as fresh fruit and veggies. Fresh pressed juice contains no added sugars and offers a refreshing beverage with no added preservatives.
 Sugary beverages and smoothie imposters
Beverages with added sugar that are marketed as "healthy" because they have a few vitamins added are more like pop. Added sugar is also found in smoothies that come out of a Slurpee-like machine, are made from powder or that use sorbet scooped out of containers like ice cream.
But don't smoothies and even fruit have SUGAR in them?
Sugar is a type of carbohydrate that can generally be classified as one of the following:
added sugar found in foods such as white table sugar, brown sugar, agave, maple syrup and honey
natural sugar found in foods such as fruits, vegetables and lactose-containing foods such as milk and yogurt
The difference between them all is nutritional density or the amount of vitamins, minerals and fibre they contain.
The World Health Organization (WHO) and Health Canada suggests there is no need to reduce the amount of sugars in fresh fruits and vegetables, and sugars naturally present in milk because there is no reported evidence of adverse effects and considering they contain healthy nutrients.
It can be confusing on a label to see foods such as a carton of milk or package of baby carrots displaying grams of total sugar. These foods obviously do not have sugar added to them but contain natural carbohydrates (milk contains lactose and carrots contain fructose and glucose). 
If I am buying a smoothie what should I look for?
Not all smoothies are created equal. In fact, many 'smoothie imposters' are nothing more than an overpriced slushy drink or sugary drink that contains no actual real fruit.
| | |
| --- | --- |
| Healthy Smoothie | Unhealthy Smoothie |
| Custom blended fresh before your eyes | Comes from a slushy machine or is made from powdery sugar mixtures with ice and water |
| Contains real food such as fresh fruit or veggies and frozen unsweetened fruit that you can find in a healthy kitchen | Uses sweetened juice and sorbet (sugary frozen stuff scooped from containers that look like ice cream) |
| Ingredient list is simple and easy for kids and grandparents to recognize | Ingredients sound like a science experiment (unnatural ingredients, artificial colors and preservatives) |
|   | Promotional words such as "fruit punch, fruit drink, fruit cocktail, fruit beverage, fruit sorbet" are used (imply sugar has been added. |
|   | Advertising "made with real fruit" or "blended with real fruit puree" (these are marketing terms that do not ensure your smoothie is 100% unsweetened) |
|   |   |
|   |   |
What are the best ingredients to add to a smoothie?
I like to think of smoothie building in five easy steps:
Start with fruit
Fresh or frozen unsweetened strawberries, blueberries, blackberries, raspberries, mango, pineapple, banana, peach and more!
Add a healthy liquid
100% unsweetened juice, milk, almond milk, soy milk, rice milk, coconut water or fresh pressed vegetable juice.
Consider a veggie
Fresh kale, spinach, swiss chard, avocado, cucumber as well as steamed veggies such as cauliflower, carrots and beets whirl away in any blender easily.
Try a healthy addition
Hemp hearts, chia seeds, ground flax, yogurt, cottage cheese, oatmeal, bran or protein powder are other great additions to enhance nutrition.
Blend & enjoy!
Drink at home or place in a reusable coffee mug with a straw.
What type of smoothie is best BEFORE exercise?
The amount and type of food we can eat is highly individual and takes some experimenting to get it right.  
The ideal smoothie choice if you only have an hour or two before starting a workout or training session is a smoothie that contains primarily carbohydrates since this is easily digested and can top up your energy levels.
Choose smoothies that have that contain good sources of carbohydrate such as fruit, unsweetened juice, coconut water and almond milk.
Stay away from smoothies that have high amounts of protein (such as those that contain protein powder) since these can take a long time to digest
For smaller appetites, and if you don't have much time before intense activity go with a snack-size smaller smoothie.
What type of smoothie is best AFTER exercise?
The recovery nutrition meal is the most important meal of the day for recreational fitness enthusiasts and athletes. This is because your recover meal provides the key essential nutrients to ensure you show up at your next workout fresh and can train hard again to see the results you are looking for in strength and endurance.
Choose smoothies that have a mix of both carbohydrates and protein. Post-workout is an ideal time to choose a protein smoothie or order your favorite smoothie and add a protein powder as an extra benefit.
Protein from foods such as milk, yogurt, hemp hearts and protein powder help to repair muscle tissue and boost immune function.
Carbohydrates from fruit, unsweetened juice, coconut water and almond milk are also essential to restock muscle glycogen (carbohydrate) and so you don't show up fatigued at your next workout. These items also contain antioxidants that help your body recovery from high-intensity activity.
Can you tell me about the upcoming Jugo Juice 10k race happening as part of the Calgary Marathon race ?
On Sunday, May 29th the annual popular Scotiabank Calgary Marathon is happening. Not only is there a marathon there are multiple race distances that are good for every age and ability – including kids. Jugo Juice is once again sponsoring the 10km race, which you can register for at www.calgarymarathon.com.
Stop by the Jugo Juice booth after your run and refuel with the official event "Berry Bolt" smoothie which contains:
Strawberries, raspberries, banana, lemon, avocado, unsweetened cranberry juice and unsweetened almond milk
The "Berry Bolt" recipe and smoothie name was the winning option from the online contest hosted by Jugo Juice and the Calgary Marathon and is an exciting new addition to the smoothie line up at Jugo Juice.
If you need help putting your goals into action we can help.  Work with one of our friendly Registered Dietitians at our Calgary office or alternatively by phone or Skype. Explore our Nutrition Counselling Programs.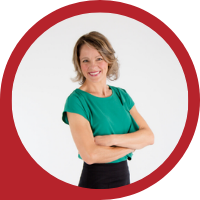 About Andrea Holwegner
CEO, Registered Dietitian, Counseling Practice Director & Professional Speaker
Andrea the «Chocoholic Nutritionist» is founder and CEO of Health Stand Nutrition Consulting Inc. since 2000. She is an online nutrition course creator, professional speaker and regular guest in the media. Andrea is the recipient of an award by the Dietitians of Canada: The Speaking of Food & Healthy Living Award for Excellence in Consumer Education....Read more