The three most important mindset shifts for nutrition success
Three Mindset Shifts for Nutrition Success

Chances are the biggest barrier to achieving success in many things in your life has more to do with your mindset than a lack of ideas of what to do. Making nutrition, exercise and health change is no exception. 
What type of mindset shift leads to the best long-term success to improve your overall energy, health and weight management efforts? Below I explore three business and lifestyle books that fundamentally changed my mindset in both my work and personal life. Although these are not health books, I will apply these game-changing concepts to what this means for your eating habits.
1.  Become a "nutrition essentialist"
One of my favourite books over the last five years was written by Greg McKeown Essentialism: the Disciplined Pursuit of Less. The book is about distilling the absolute essential things in your life and eliminating everything else. As someone who values richness of health and time more than anything, this book and the concepts continue to help me intentionally choose less instead of thinking "how can I fit it all in?"
The concept of "less but better" is highly relevant to your health. When you discern what is essential, health almost always rises to the top since without this, nothing else matters. Living as an essentialist allows you think about your thinking, become more intentional and less reactive with respect to your food choices. It will allow you to make the tough calls to place a clear boundary around your time so that you have the mental space and practical amount of time needed to cook a healthy dinner, enjoy being physically active on the weekend with friends or family and eat mindfully in a less frantic on-the-go careless way, instead of grabbing whatever is convenient. 
2.  Nail "the one thing" for nutrition success 
In the book The One Thing: the Surprisingly Simple Truth Behind Extraordinary Results by Gary Keller and Jay Papasan, you will explore the ONE thing you can do so that by doing it everything else will be easier or unnecessary. The best results to achieve anything in your life, work or finding purpose is determined by how narrow you can make your focus. Health is no exception.
Not everything matters equally. There are "nice to have" ideas for fine tuning and "need to have" strategies for health, energy and weight management success. I've seen many of our clients get tripped up trying to achieve everything with equal importance, which makes results weaker and sustainability a challenge. Chances are you do not need to change twenty things in your diet but you may need to tweak the portion size of your everyday food choices or strategize the emotional aspects of why you are eating to create big shifts in your life.
Success is determined sequentially. For nutrition success, the little things you do daily are the big things. I enjoyed one of the analogies in the book that small dominoes can tip over very large dominoes if you stack them right. I have seen time and time again when our clients take consistent action on bite-sized changes they experience supersized results. What you do occasionally on the weekend or while socializing matters less. Packing a daily healthy afternoon snack for the 4 p.m. 'hangry' time of day or committing to eating a piece of fruit as part of their breakfast every day is far more effective than a spring cleanse or detox diet done for a week.
3.  Clarify "what soulful food sparks joy?" 
Marie Kondo's book The Life-Changing Magic of Tidying Up: the Japanese Art of Decluttering and Organizing also has important lessons that can improve health. This book fundamentally
shifted the way I think about my possessions and philosophy of what I own and choose to donate. 
If your physical space is less cluttered and you are surrounded only by items you love, this lighter feeling impacts success for your personal life, work life and also your health. Although the book concepts do not dive into how to declutter and organize your kitchen, if you take the book concepts and truly think about placing only items you use and love in your kitchen then cooking becomes that much easier and enjoyable. 
The most important concept in this book is asking the very simple yet profound question "Does this spark joy?" for all your possessions. I would encourage you to apply this question to soulful foods (yummy foods chosen for taste and enjoyment rather than for health purposes). While applying this question to all foods may have you never wanting to eat another vegetable again (if they do not spark joy for you), it works incredibly well for items like chips, chocolate, cookies, beer or wine. When you specifically clarify which soulful foods in your diet truly spark joy, are enjoyed socially and make your taste buds sing, it becomes much easier to eat these mindfully. Smaller portions of soulful foods also often become more satisfying. It also becomes easier to give up bad habits or decrease items chosen without thought because someone in your home was eating them. It also becomes easier to plan ahead and skip grabbing a quick fix for energy out of a vending machine because you forgot to bring a healthy afternoon snack.
Where to start
While everyone will define nutrition essentialism, their "one thing" and what sparks joy differently, having worked with clients for close to two decades if you were going to start anywhere I would encourage you to examine supper. Answer the question "what is for supper tomorrow night?" While this sounds simple, being able to effectively answer this question means you have a clear essentialist understanding of what you need for your medical situation or health goal. It also means you have said no to many things so that you can find time to shop and prepare healthy food. It also means you have figured out how to make healthy food taste good to truly spark joy so that you won't want to ditch your healthy eating plan. Answering this question may also simplify lunch if you decide to make extras for leftovers. It may also lead to better family connectedness and joy since you have made eating together as a family important.
Struggling to determine what is essential, or what brings joy to your taste buds? Trying to figure out how to balance the "need to have" vs the "nice to have" things in your life with regards to food? Contact us about personal nutritional counselling

programs

to help bring clarity to your home, and table.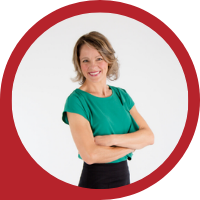 About Andrea Holwegner
CEO, Registered Dietitian, Counseling Practice Director & Professional Speaker
Andrea the «Chocolate Loving Nutritionist» is founder and CEO of Health Stand Nutrition Consulting Inc. since 2000. She is an online nutrition course creator, professional speaker and regular guest in the media. Andrea is the recipient of an award by the Dietitians of Canada: The Speaking of Food & Healthy Living Award for Excellence in Consumer Education....Read more