Top Health, Fitness, and Nutrition Apps for 2017
Top Health, Fitness and Nutrition Apps for 2017

With so many options to choose from, it can be overwhelming to decide which apps may be most helpful when it comes to helping you to achieve a healthy lifestyle.  To help you screen through the clutter, here are my top apps to check out for nutrition, cooking, fitness, meditation, and goal setting to get you started.  
(Note that I have not selected apps that only track calories since after all there is more to healthy eating than simply just adding up numbers).  
Watch nutrition expert Andrea Holwegner speak on Global TV about great apps for 2017:
Top Nutrition Apps
Strides: Goal & Habit Tracker + Life Organizer  www.stridesapp.com
Free forever iphone, ipad, apple watch & web app
Paid app if tracking over 10 goals/habits or want more flexibility.
Track just about any goal or habit all in one place (track a target, habit, average, project).
Quick set up, beautiful charts and nice rewards.
Automatic flexible reminders and easy fast tracking by swiping
Although this isn't a nutrition app the possibilities for tracking very clear nutrition goals that lead to success is awesome.  Eg. Track hydration, eating breakfast daily, eating enough vegetable servings today, deciding what dinner will be for tomorrow etc
EATracker  www.eatracker.ca
Free iphone and android app created by Dietitians of Canada.
Plan your meals: Get feedback on a variety of nutrients (not just calories). Search and add favourite foods/recipes to your "pantry."
Food search: quickly access a nutrition facts table to find out the nutrients in a food.
Analyze your food: Compare your intake to national guidelines.
Track activities: Set exercise goals and track progress.
Meet your goals: Post your own goals, quotes and photos to keep motivated.
Recipe analysis: Get a quick nutrient analysis of your own recipes.
Top Cooking Apps
OrganizEat Recipe Organizer http://app.organizeat.com
$5.49 iphone or ipad app
Very easy to use
Organizes all your recipes quickly (no need to type!)
Snap a photo of your recipe from home or clip a photo from the web
Sync between your iphone and ipad (recipe backup and sync)
Can easily share the recipe for a friend or family member by email
Copy Me That Recipe Manager, Grocery List, Meal Planner www.copymethat.com/about/
Free app iphone or android
Add any recipe from any website with a click (uses technology to clip the text and extract and format the text from any website) – also can edit/add notes.
Check a button when you have made this and rank out of 5 stars how much you liked it.
Organize with tags or simply just use the search button to find your recipes
Get a shopping list from the recipe and add extra items.
Can create meal plans for a special meal or weeks at a time.
Share publicly with the community or keep private.
Any List (Create and share any list; organize recipes) www.anylistapp.com/
Free for iphone (paid for advanced features)
Create and share grocery shopping lists and other lists
Can sync and share with family; changes immediately show up to everyone sharing a list
Can be seen on multiple devices and securely backed up in the cloud
Organize personal recipes and recipes from other sources such as emails, websites and blogs
Tap on recipe ingredients to add them to shopping lists.
Add items with Siri
Add photos to list items to keep everyone on the same page and make sure the right item is purchased
How to Cook Everything  http://www.howtocookeverything.com
Paid apps by culinary guru Mark Bittman
How to cook everything kitchen companion app is a must have fundamental resource for every cook to own.
Search by ingredient or category the 2,000 plus recipes with variations for this award winning no-nonsense cookbook
Also check out how to cook everything fast, basics, vegetarian as secondary purchase options)
Top Fitness, Meditation and Sleep Apps
Sworkit  www.sworkit.com
Free and premium paid version app
Pre-built workouts or design your own
Strength, stretching, cardio, pilates and yoga
Set your own time limit from 5 minutes or more
No equipment required
Video instruction and audio cues
Insight Meditation  https://insighttimer.com
Free meditation app
Connect with a worldwide community of millions of meditators
Choose from a variety of timers for meditation
Access hundreds of free guided meditations by renowned experts
White Noise Sleep Sounds  https://www.tmsoft.com/white-noise/
Free app with sounds to help you relax the day and sleep at night
Create your own custom sound mixes by mixing several sounds together
Change the colour and brightness of your screen
Gentle alarms and timers that slowly fade in.

What are your favourite fitness, health, cooking and nutrition apps?  I would love to hear from you!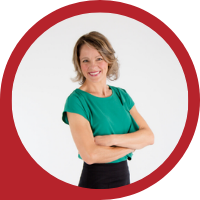 About Andrea Holwegner
CEO, Registered Dietitian, Counseling Practice Director & Professional Speaker
Andrea the «Chocolate Loving Nutritionist» is founder and CEO of Health Stand Nutrition Consulting Inc. since 2000. She is an online nutrition course creator, professional speaker and regular guest in the media. Andrea is the recipient of an award by the Dietitians of Canada: The Speaking of Food & Healthy Living Award for Excellence in Consumer Education....Read more