Turning Over an OLD Leaf
I know the expression is "turning over a new leaf" but after watching our clients shift through change over the years I am wondering if "turning over an OLD leaf" might be a better way to think about lifestyle change this fall.
The fall is like a new year.  It is a chance to fall back into healthier habits that may have dwindled over the summer.  Rather than thinking about turning over a new leaf and establishing new habits, think about some of your old habits that used to work.  You likely don't need anything revolutionary. You are rich in your wisdom about what has worked in the past (and it is probably boring basic stuff like packing your lunch the night before).
For me this means getting going on yoga again.  I will also be dusting off my slow cooker for make-ahead meals for busy weekday nights and big-batch muffins and soups I can freeze for lunches.
Dig in and commit to getting going!
I would love to hear from you…What are some of the ways you ensure healthy eating happens at the speed of life?  Tell me your thoughts and experiences below.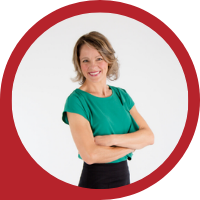 About Andrea Holwegner
CEO, Registered Dietitian, Counseling Practice Director & Professional Speaker
Andrea the «Chocoholic Nutritionist» is founder and CEO of Health Stand Nutrition Consulting Inc. since 2000. She is an online nutrition course creator, professional speaker and regular guest in the media. Andrea is the recipient of an award by the Dietitians of Canada: The Speaking of Food & Healthy Living Award for Excellence in Consumer Education....Read more